Interested in International High-Heavy/Construction Equipment Shipping?
K International Transport can handle the overseas shipment of oversized high-heavy / construction equipment. We ship: trucks, bulldozers, concrete mixers, cranes, dump trucks, earthmovers, excavators, forklifts, generators, log loaders, motor graders, mining equipment, scrapers, skid steer loaders, tanks, tractors, travel trailers, RV's, water trucks, wheel loaders, tractor-trailers, semi-trucks, ambulances trailer shipping and more!
We can provide heavy hauling from any inland origin in the continental U.S. to the closest available port. K International Transport arranges inland transport with specialized trucks and trailers including flatbeds, step-deck trailers, RGN (removable gooseneck) trailers, and expandable trailers. All inland movements are fully insured with experienced drivers and all heavy equipment shipping quotes include the cost of permits and escorts if necessary.
We can transport cargo from all U.S. ports including New York, Baltimore, Charleston, Savannah, Jacksonville, Houston, Oakland, Long Beach, Seattle, and Tacoma.


---
Self-propelled units are driven and towable units pulled and stowed under-deck of roll-on / roll-off vessels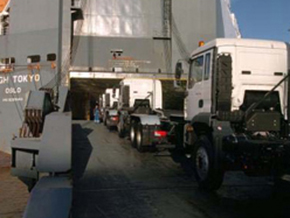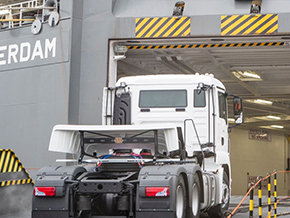 ---
Static Cargo is lashed and secured onto mafi trailers or flatracks.
Shipping static / non-towable cargo? We can ship your unit on mafi trailers or flatrack. Static Cargo is lashed and secured onto mafi trailers or flatracks.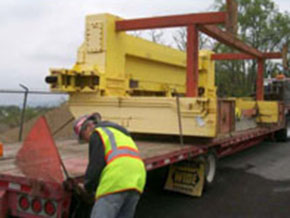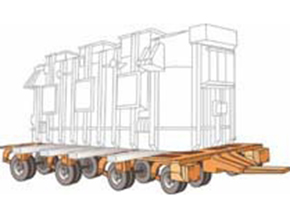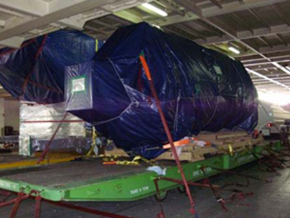 ---
Dismantling & Loading of High Heavy/ Construction Equipment
If you are interested in obtaining a rate quote for our high-heavy / construction equipment shipping services, please fill out our High-Heavy / Construction Equipment Request Form.
We try to answer every inquiry by the end of the next business day