With inflation at the forefront of everyone's minds, pricing is very important right now. When it comes to International Shipping Services, we are here to ensure shipping is at a fair and affordable price. Whether you are choosing to relocate abroad for a time, want to ship your vehicle or other goods abroad, or moving an entire business to another country to take advantage of contracts, international shipping is part of the mix. Clients always want to know what is factored into the charges that arise, so here is a quick primer about the context of your costs.
Firstly, where are you shipping to, and what method are you using? When it comes to location, both distance and method will have a big impact on the cost. Are you shipping via air or sea? Traveling by road is the cheapest option, followed by a waterway, and lastly through the air. Will the method need to ensure extra protection of the cargo? If it is going to a well-connected region with many railways, roads, and other infrastructure, the prices will be cheaper. Carriers often define shipping zones to help streamline the costs.
Next, what kind of goods are you shipping? Are you moving heavy construction equipment or a vintage vehicle? Given the nature of the item and where it is going, the cheapest option may not be possible. No matter what, the nature of the product determines the costs. If a carrier uses weight-based shipping, the heavier a package, the more expensive it will be. In contrast, dimensional-based pricing takes into account the length, height, and weight. If a package is light but takes up more space, it will be more expensive.
Additionally, how will the cargo be packaged? For example, what can be shipped in regular containers is handled differently than what must be shipped by refrigerated containers. There may also be an option to use a shared container, which would be cheaper. The packing details are related to the goods, which will determine the price. It is important to invest in high-quality packaging to decrease the risk of product damage.
Lastly, how much time do you have? If you need goods to reach their destination in a hurry, you should expect to pay the "fast" fee. It is also important to consider that some modes of shipping may not match the time frame you have to work with. To avoid unnecessary costs, make sure to plan ahead!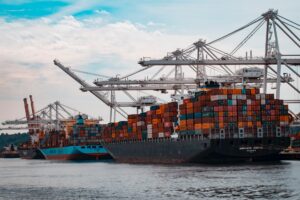 Knowing what goes into the costs means you can choose your shipping company with a clear sense of what you should and shouldn't be paying for. Knowledge is power, and although rules change from country to country, knowing the basic principles means you will never be caught off-guard. Prices can seem daunting, but K International Transport can help with all associated shipping needs and wants to ensure the easiest process for customers possible. We hope you consider us given all our international shipping experience! For a specific quote from K International, please contact our friendly experts. Call us at 212-267-6400 or send us an email at inquiries@kinternational.com. You can also reach out to us on Skype at kinternationalny. We look forward to working with you!