Rio De Janeiro is known for its never-ending beaches, beautiful mountains, rich history, and of course, Christ the Redeemer. The main port is located in the west shore of Guanabara Bay and is the third-busiest in the country. Its most common imports are general cargo, electronics, rubber, steel, oil, and coffee. It contains 31 berths and receives over six million tonnes of cargo each year. The port has a large emphasis on sustainability and created to Environmental Superintendence (SUPNAM) to lead their efforts. The ports mission and vision is to "Provide infrastructure and common services to the managed port complex, with excellence, sustainability and safety, in order to ensure the competitiveness of its ports, contributing to the socioeconomic development of its area of ​​influence," and be seen as a leader in the field. Lastly, their values are adaptability, proactivity, responsibility, orientation, respect, and ethics.
No matter the reason for shipping to Brazil, K International's international construction equipment shipping services can help clients transport construction equipment overseas to Brazil from the United States! As a reliable and efficient international shipping company, we are here to help make the shipping process hassle-free and affordable. We can ship from almost anywhere in the US, including New York, Maryland, South Carolina, Georgia, Florida, Texas, California, and Washington. Additionally, we can provide door pick-up or inland transport of cargo.
The most common companies are Komatsu/ Caterpillar/Kobelco/Hitachi and the top products include crushers, drilling rigs, mixers, reclaimers, excavators, crawlers, trucks, and bulldozers. They can be shipped via container shipping or roll-on/roll-off (RoRo) vessels, and K International Transport will help determine which method is ideal for the circumstance. RORO is the easiest and cheapest method of shipping, but containers can be necessary for extra protection.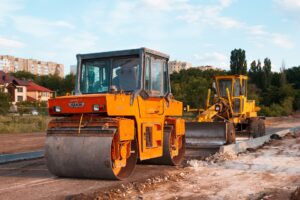 For more information of the port of Rio visit https://www.portosrio.gov.br/en. With a reliable international shipping and transport company like K International Transport, overseas car shipments are hassle-free, efficient, and affordable. We have the capacity to move all types of equipment and are always ready to advise on the best way to do that on a case-to-case basis. Chat with us over the phone at +1 (212) 267-6400 or email us at inquiries@kinternational.com to find out how easy it is to ship cargo. We look forward to working with you!