Dreaming of an adventure to Manchu Picchu or working on a construction project? No matter the reason, shipping construction equipment overseas has never been easier! As a reliable and efficient international shipping company, K International Transport is here to help make the shipping process hassle-free and affordable. We can ship from almost anywhere in the US, including New York, Maryland, South Carolina, Georgia, Florida, Texas, California, and Washington. Additionally, we can provide door pick-up or inland transport of cargo. Since the Peru Trade Promotion Agreement enactment in 2009, international shipping between Peru and the US has increased by 400%!
Just nine miles west of Lima and home to Peru's main international airport, the coastal city of Callao is rapidly becoming a popular destination for many. In addition to its stunning beaches and beautiful architecture, the city has a rich history. It was founded in 1537 by the Spaniards and served as a central location in the colonial movement. The main attraction, the Royal Felipe Fortress, played a large role at the time. After taking 27 years to complete, it opened in 1774 to protect Lima from pirates. It is now the museum of the army of Peru. In 2011, a $1 billion dollar investment was given to the port to renovate its infrastructure. Callao also contains the Callow Cathedral and a large navy base. Connected by the Ferrocarril Central Andino Railway, Callao is known as "Lima's port to the world" and is the foremost Pacific port for Spanish commerce.
With growing construction and mining businesses in Peru, K International Transport can ship all Kobelco/Komatsu/Caterpillar/Hitachi products via container shipping and roll-on/roll-off (RoRo) vessels and will help determine which method is ideal for the circumstance. Examples include crushers, drilling rigs, mixers, reclaimers, excavators, crawlers, trucks, and bulldozers. In addition to handling container cargo, the port also has facilities for roll-on / roll-off vessels allowing for the shipment of oversized and rolling cargo into Callao. RORO is the easiest and cheapest method of shipping, but containers can be necessary for extra protection. Documents needed to ship to Peru are the Peru Customs Value Declaration, a Bill of Sale, Bill of Lading, Offical Title Registration, a list of identifying information on the cargo. Rates will depend on the type of cargo but all should arrive between 25 and 40 days after leaving the US.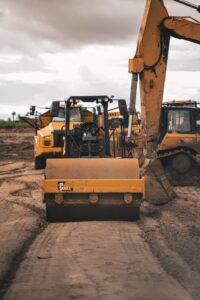 With a reliable international shipping and transport company like K International Transport, overseas car shipments are hassle-free, efficient, and affordable. We have the capacity to move all types of equipment and are always ready to advise on the best way to do that on a case-to-case basis. Chat with us over the phone at +1 (212) 267-6400 or email us at inquiries@kinternational.com to find out how easy it is to ship cargo. We look forward to working with you!