Shipping construction equipment overseas is one of K International Transport's top international shipping services. Shipping heavy equipment overseas is no easy task, but we are here to help.
Having a trusted international shipping company like K International Transport on your side, with our meticulous attention to detail and constant striving to make our customers' experience as smooth as possible, is a sound choice that will allow you to feel in control during each phase of your shipment, but without unnecessary headaches. Luckily, almost any global port will accept construction equipment from ports in the United States. States we ship from include, but are not limited to, New York, Virginia, Maryland, South Carolina, Georgia, Florida, Texas, California, and Washington!
King Abdul Aziz Port
Saudi Arabia's main port is the King Abdul Aziz Port, which is located in Dammam. The up-and-coming city is home to a beautiful waterfront and Center for World Culture. It is the third largest port in the Middle East, a crucial destination on the Silk Road, and it has helped establish Saudi as a leader in the oil world. After an expansion project in 2015, the port contains three terminals and 43 berths. The maximum length of the vessels is 398 meters, the maximum draught is 13.9 meters, and the maximum deadweight is 196000t. A major rail system also connects the port to the capital city of Riyadh.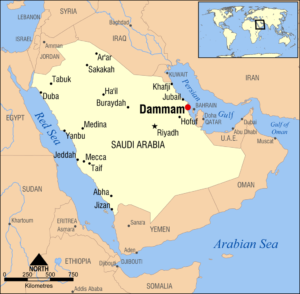 Construction equipment can include various items, but we are equipped to handle a range of dimensions and sizes of equipment. We mostly ship excavators, bulldozers, tractors, cranes, and stone trenchers from manufacturers like Volvo, Caterpillar, Hitachi, or Kobelco. One key step in the process is determining the shipping method.
Roll-on/roll-off (RO/RO), container shipping, air freight services, and flat racks are all viable construction options. RO/RO is the most common and reliable as the cargo is directly driven onto the ship, creating easy entry and exit points. The downside to RO/RO is that there are fewer ports worldwide.
Container shipping has no limits, more ports, and gives the cargo its own enclosed area. However, it requires more steps and is more expensive. For air freight shipping the car is secured to a plate and thoroughly wrapped for protection. Lastly, equipment that exceeds the width and height of a container can be transported via a flat rack. Flat racks only have two sides so the bulky equipment can stick out of the container during transport. While we help provide the best method of transport possible, ports often have restrictions on the condition of the cargo.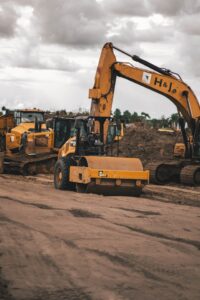 When it comes to international shipping, each country has its own set of policies and regulations, so it is necessary to be knowledgeable and up-to-date about the required documents. Saudi Arabia requires a commercial invoice, a bill of lading, insurance documents, and a certificate of origin to import goods into the country. Additionally, a small tax is imposed depending on the value of the cargo. It is important to follow all these steps to ensure the shipping process goes smoothly.
With a reliable international shipping and transport company like K International Transport, overseas car shipments are hassle-free, efficient, and affordable. We have the capacity to move all types of equipment and are always ready to advise on the best way to do that on a case-to-case basis. Chat with us over the phone at +1 (212) 267-6400 or email us at inquiries@kinternational.com to find out how easy it is to ship your construction equipment. We look forward to working with you!