International shipping services can appear complicated, but K International Transport knows what to do. When exporting cargo, many clients prefer to ship from the United States out of necessity and practicality. However, transporting all goods out of Canada is becoming more profitable, so more clients are opting for export out of various ports. Port Halifax in Nova Scotia, just above Maine, is a popular option and has been in the port business for years. As a trusted international shipping company, K International Transport has decades of experience and is here to help make shipping from Canada stress-free.
The Halifax port has been in operation since the 1800s and is a trusted partner in the shipping business. Today, it handles around 600,000 TEUs annually and connects to 150 countries. It also produces an economic output of $3 billion and provides over 25,000 jobs. One prominent feature of the port that allows it to succeed is the major rail system that connects Halifax to both central Canada and the midwestern United States. The port's unique location also makes it a "premier arts and cultural destination for tourists and locals alike." Lastly, as with every industry these days, Halifax commits to sustainability: "[it] is the balance of economics, community integration and the environment."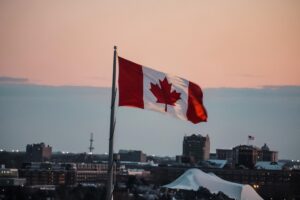 With K International's services, shipping overseas can be hassle-free!
K International Transport can ship containers from the port of Halifax to several worldwide destinations and from rail connections in Toronto and Montreal!

If your cargo is located outside of a port city, K International Transport offers inland trucking and transportation services to transport your belongings to a port before they are shipped overseas!

International shipping services

 from Halifax for almost all cargo to most ports in Asia, South America, Africa, and Europe.

Roll-on/roll-off services if you are shipping wheeled cargo such as automobiles, construction equipment, and high-heavy machinery!

Rigging and Dismantling services. We'll even load your equipment for 

construction equipment shipping services

 for you!

and more!
With a reliable international shipping and transport company like K International Transport, overseas car shipments are hassle-free, efficient, and affordable. We have the capacity to move all types of equipment and are always ready to advise on the best way to do that on a case-to-case basis. For more information on the port of Halifax, Canada visit https://www.portofhalifax.ca/. Chat with us over the phone at +1 (212) 267-6400 or email us at inquiries@kinternational.com to find out how easy it is to ship cargo. We look forward to working with you!