International truck shipping can look different in various ways, but no matter what, K International Transport, a leader in worldwide auto shipping, is here to help. Maybe you are looking to ship a large amount of construction equipment including bulldozers, mixers, or dump trucks. Maybe a third party is selling a truck, and an independent shipping company needs to help facilitate the transfer. Or maybe a truck is your personal item and you wish to have it abroad.
Overseas Shipping
Regardless of the reason, K International Transport is an experienced and reliable international shipping company that can handle any shipping needs. We specialize in shipping cars overseas and offer various other international shipping services. Cargo can be shipped from any port in the United States, including those in New York, California, Maryland, Virginia, South Carolina, Georgia, Florida, Texas, and more to almost anywhere in the world. If your cargo is located outside of a port city, K International Transport offers inland transportation and trucking services to transport your belongings to a port before they are shipped overseas!
Some popular international ports include:
Southhampton, UK
Algeciras, Spain
Bangkok, Thailand
Jebel Ali (Dubai), United Arab Emirates
Lagos, Nigeria
Said or Alexandria, Egypt
Guatemala City, Guatemala
Buenos Aires, Argentina
Brisbane, Australia
Shipping Methods, Customs, and Prices
Each port has specific instructions, but K International Transport works closely with port operations to ensure a smooth process. One key step is determining the shipping method. Roll-on/roll-off (RO/RO), container shipping, and air freight services are all viable truck options. RO/RO is the most common and reliable as the car is directly driven onto the ship, creating easy entry and exit points. Container shipping has no limits and gives the car its own enclosed area. It is usually used for non-operational trucks and takes longer. Lastly, for air freight shipping, the car is secured to a plate and thoroughly wrapped for protection.
After determining the method, ensure all the necessary documents are in order. While these are also dependent on a port's specific customs, there are few that are always required. These include identifying information, title certificate, registration, bill of sale, power of attorney, insurance forms, and safety compliance.
Another factor in the process is the price. Although shipping trucks can be expensive, K International Transport can offer the best deals for the transport of high-heavy equipment overseas. General factors include distance, mode of transportation, and season. Additionally, the dimensions, weight, and shipping method will all play a role in determining the final cost.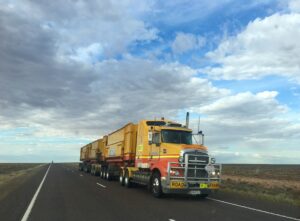 Get in Touch with K International Transport Today
Ready to get started? Click here for a quote today! With a reliable international shipping and transport company like K International Transport, overseas car shipments are hassle-free, efficient, and affordable. We hope you consider us given all our international shipping experience! Call us at 212-267-6400 or send us an email at inquiries@kinternational.com. You can also reach out to us on Skype at kinternationalny. We look forward to working with you!