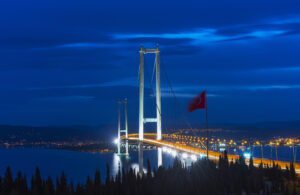 Located on the Sea of Marmara in Northern Turkey, the Port of Derince is a busy seaport less than 50 miles away from Istanbul. Port Derince is located in the Kocaeli Province of the nation, and provides an outlet for both import and export cargo for the province as well as surrounding cities and towns. The port's location allows access to the Sea of Marmara, the Aegean Sea, the Mediterranean Sea, and the Atlantic Ocean for the ability to transport cargo to virtually any location.
Although Port Derince, Turkey allows all types of cargo, including automobiles, construction equipment, and personal effects, the port specializes in transporting vehicles and finished automobile parts. This is mostly due to the large availability of storage in the town of Derince. However, clients can transport all types of cargo via container or roll-on/roll-off shipping to and from Port Derince, Turkey.
Notable Facts about Port of Derince, Turkey:
Derince is one of the few ports in Turkey that is operated under government control.
The town of Derince has one of the largest storage areas in the entire country of Turkey.
Port Derince, unlike many other seaports in Turkey, has a railway connection in the area, and has one of the longest rail networks within the port.