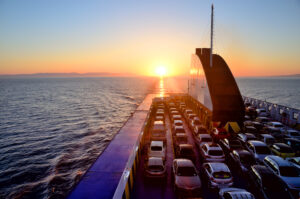 International Automobile Shipping can be stressful for clients who are new to international shipping. However, the process can be efficient and affordable with an experienced and knowledgeable international shipping company that can help the client along the right path.
When transporting automobiles, clients have the option between transporting them via containers and via roll-on/roll-off (RoRo) shipping. Shipping to various destination countries may offer different deals with one method or the other, but typically clients transporting non-running vintage or classic automobiles will opt for utilizing a container, while clients with working cars will use RoRo vessels. RoRo vessels require cars to drive onto them, so non-running vehicles would not be able to utilize this form of transport.
In addition, many clients require the help of an inland trucking and transportation company to transfer their vehicle from their location to the port of origin in the United States. This part of the process can typically be handled by the freight forwarding company as well.
For clients looking to ship personal or commercial effects in addition to the automobile, they can opt for a container to keep the rest of the cargo in the same place. No matter what the process entails, the client can depend on their freight forwarding company to help them get their automobile from Point A to Point B efficiently, hassle-free, and for an affordable price.