International automobile shipping services can seem overwhelming and unnecessarily difficult for those who have little experience with freight forwarding in general. However, with a reliable and experienced international shipping company like K International Transport, the process can be affordable, hassle-free, and efficient. K International Transport loves to ship all types of automobiles/cars/vehicles, whether they be contemporary autos, classic and vintage cars, or large vehicles such as trucks.
Typically, cars can be transported both via container and roll-on/roll-off (RO/RO) shipping. However, when shipping to Poland, and Port Gdynia in particular, clients should know that the port only accepts container shipping. However, this can come with benefits for clients, including the capability to transport personal effects with the automobile, which is not permitted with RO/RO shipping. With a 40- or 45-foot container, clients can easily transport all types of vehicles overseas safely. In fact, the vehicles will be well protected against the elements and other damage that may occur. For especially careful clients, K International Transport can offer two types of insurance included with our international shipping services, one for minor damage and another for total loss if the vessel sinks or the vehicle is otherwise totaled.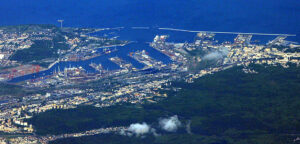 About Port Gdynia, Poland
Port Gdynia is a reliable and efficient port that may interest clients. Located on the Baltic shores of Northern Poland in the Gulf of Gdansk, Port Gdynia is a large and important seaport for Poland. Port Gdynia is the largest port in Poland and is an important logistics hub for trade with the trans-European corridor, which is a planned network for roads, railways, airports, and water infrastructure in the European Union. Port Gdynia has also historically served as a feeder port connecting Poland to Bremerhaven, Hamburg, and Rotterdam, as well as to the United Kingdom. The port is solely a container port, best for transporting cargo in a safe and efficient manner.
Port Gdynia is known for exporting sugar, lumber, and coal, and importing iron ore and food products. However, the port can handle virtually any type of cargo that clients from the United States can ship, including automobiles, construction equipment, and personal effects.
The Vehicle Shipping Process to Poland
Before the shipping process to Port Gdynia can begin, clients will need to provide several documents to the international shipping company. Required documents include photo identification information for both the shipper and the consignee, the original title of the car, prepayment in full, proof of the commercial value of the automobile, and a signed power of attorney form to allow the freight forwarding company to handle the shipment. For the shipment of personal effects, clients may also need to include a packing list. After the client submits the documents, the company can schedule the shipment.
Some restrictions and regulations may apply on automobiles being shipped to Poland. A few common restrictions include tariffs on vintage and classic cars, automobile age restrictions, and cleaning requirements. Clients should also be aware that the automobile will be loaded by a crew in the warehouse, so if you choose to ship personal effects with the automobile in a container, the personal effects must be loaded by the shipper and the car will be loaded at the warehouse.
For clients looking to transfer only personal effects and household goods, they can choose to transfer the items via a full container or Less-than-Container Load (LCL). For a very large quantity of personal goods, a 20-ft container may be the best choice. However, for clients with less cargo, LCL is an affordable and efficient option. LCL allows multiple people to share a single container. With this option, the goods need to be packed and palletized. With container and LCL, the client must load the personal effects onto the container themselves. Although this includes a bit more work for the shipper, it is a very affordable and economically efficient option. Keep in mind that in order to load the container, a tractor trailer must be able to enter the residential area, there must be sufficient parking and loading space for the truck with the container, the client is responsible for loading the container, and containers come in a chassis, which is about 4 feet above the ground and there is no ramp.
For the most convenient, affordable, and reliable international shipping services, contact K International Transport today! As a leading international shipping company, K International Transport can provide cost-effective and reliable services from the United States to Port Gdynia in Poland. We love to ship automobiles of all makes, models, and years, personal effects, and household goods from all port states in the United States, including New York, Virginia, Maryland, South Carolina, Georgia, Florida, Texas, California, and Washington.
For more information, call us at 212-267-6400 or send us an email at inquiries@kinternational.com. You can also reach out to us on Skype at kinternationalny. For an international shipping rate, visit our rate request page for a preliminary shipping quote. K International Transport can help with shipping your vehicle to Poland!