Have construction equipment that needs to be shipped overseas? Look no further than an experienced and reliable international shipping company like K International Transport! K International Transport loves to transport all types of construction and high-heavy equipment, and we have decades of experience helping clients get the best deals and accomplish their goals. Even the heaviest and largest equipment can be transported from ports in the United States to virtually all ports in the world. K International Transport can ship:
• Excavators, including the 336 GC and the 349 models from Caterpillar, the EC950F EC250E models from Volvo, the ZX30U-5 and ZX60USB-5 models from Hitachi, and the SK210LC-10 model from Kobelco
• Bulldozers, including the D9 and D11 models from Caterpillar.
• Wheel Loaders, including the 903D and 906M models from Caterpillar and the L260H and L120H models from Volvo
• Compactors, including the 816K and CB34 models from Caterpillar and the DD140C and DD15 models from Volvo
• And more
Apart from the models listed above, K International Transport can also ship any other equipment from Komatsu, Kobelco, Hitachi, Caterpillar, and Volvo, as well as any other brand.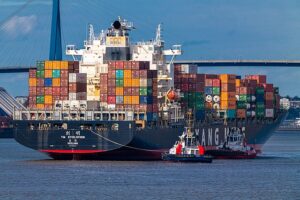 Clients may also wonder where K International Transport can help them ship. Luckily, almost any global port will accept construction equipment from ports in the United States! We can transport cargo from New York, Virginia, Maryland, South Carolina, Georgia, Florida, Texas, California, and Washington. Some popular international ports include:
• Southampton, UK
• Tema, Ghana
• Lagos, Nigeria
• Casablanca, Morocco
• Dakar, Senegal
• Abidjan, Côte d'Ivoire (Ivory Coast)
• Buenos Aires, Argentina
• Shuwaikh, Kuwait
• Hodeidah, Yemen
• Sohar, Oman
• Said or Alexandria, Egypt
Most ports can give clients the option between transporting equipment via container or via Roll-on/roll-off (RO/RO) shipping. RO/RO is only available, and is a good option, for towable and self-propelling equipment because the equipment can simply be driven onto and off of the vessel, rather than being loaded into a container. Containers are great for static equipment and for shipment to ports that do not have RO/RO capabilities. Construction equipment that can be dismantled would be loaded into 20-foot or 40-foot containers and reassembled when it arrives overseas. One down side to containers is that shippers may have to dismantle and reassemble the equipment themselves, or otherwise pay for dismantling services. Equipment that exceeds the width and height for a container can be transported on a flat rack container. Flat racks only have two sides, so the bulky equipment can stick out of the container during transport.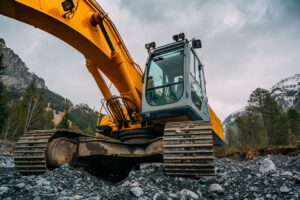 Once the mode of transport, the destination port, and the preferred schedule of shipment is decided, clients can begin the shipping process by submitting several required documents. Shippers will be required to prepay in full, submit a power of attorney form to allow the freight forwarder to legally handle their shipment, submit a bill of lading to allow the consignee to take possession of the goods once they arrive, submit a certificate of title to prove ownership of the cargo, prepare a packing list showing all the goods being shipped, record the specifications and dimensions of the goods being shipped, and provide identification information for the shipper and consignee.
Clients often ask how expensive these services typically are. Although shipping construction equipment can be pricy, K International Transport can offer the best deals for the transport of high-heavy equipment overseas. Several factors can influence the price of the shipment, including the dimensions and weight of the equipment, as well as whether it will be shipped via container, RO/RO shipping, or flat rack.
Because this process can be overwhelming, and there is a ton of information to consider, it is important for clients to select an experienced and reliable international shipping company. Luckily, K International Transport has decades of experience transporting all construction equipment, including excavators, bulldozers, cranes, stone cutters, dump trucks and more. We love transport heavy equipment to ports in the Middle East, West Africa, Europe, and Asia, as well as to other regions of the world! When the equipment is ready to be shipped, clients working with K International Transport can request a price quote for the shipment. For a preliminary quote, visit our rate request page; afterwards, you can call us, email us, or reach out to us on Skype for more information. Once K International Transport gives you the lowest possible rate for your equipment, you can proceed with the shipment by telling an agent your preferred schedule for export, submitting the necessary documents, and paying the price in full. Once the process has started, K International Transport will take care of their client's cargo every step of the way.
With a reliable international shipping company like K International, transporting heavy construction equipment from Kobelco/Komatsu/Hitachi/Caterpillar/ Volvo, including excavators, bulldozers, cranes, and more is hassle-free and affordable. Call us at 212-267-6400 or send us an email at inquiries@kinternational.com. You can also reach out to us on Skype at kinternationalny. We look forward to working with you!