For those who are new to international construction equipment shipping, do not worry! With a reliable and experienced international shipping company, the process for transporting high-heavy construction equipment to ports in Africa is easy, efficient, and affordable. K International Transport has decades of experience and can help clients transport virtually any cargo overseas, including cargo from brands like Volvo, Hitachi, Caterpillar, Komatsu, Kobelco, and more! We can transport excavators, dump trucks, cranes, tractor trailers, stone cutters, and other types of equipment of all dimensions.
K International Transport can ship cargo from any port in the United States, including New York, Maryland, South Carolina, Georgia, Florida, Texas, California, and Washington. If the construction equipment is not located near a port city, K International Transport can arrange for reliable inland trucking and transportation services, which will deliver the equipment from the client's door to the port safely.
Required Documentation for International Shipping
Before clients can begin the shipping process, they must submit all the necessary documentation. First, shippers must submit a power of attorney form, which will legally allow K International Transport to handle the shipment. A bill of lading is also required and allows the consignee to take possession of the equipment once it arrives at the port in Africa. Certificates of title for each piece of equipment to prove ownership must be provided as well. Last but not least, shippers must provide their identification and the identification of the consignee. Once these documents are received by K International Transport, as well as prepayment in full, shippers can let us know of their preferred time frame for shipment, and we will schedule it for a date that is agreeable to the shipper's schedule.
Shippers should also remember that the required documentation may not be the end of the requirements because destination ports may have their own requirements for the cargo being imported into the country. This may include inspection and cleaning requirements.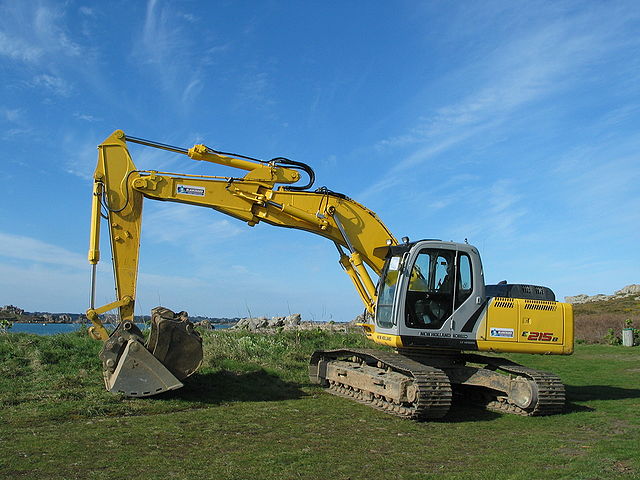 Overseas Shipping Options for Construction Equipment
Construction equipment can be shipped via roll-on/roll-off (RO/RO) vessels or by container. RO/RO is most common for towable and self-propelled equipment because the equipment can simply be driven on and off of the vessel rather than being loaded in a more complicated manner. Containers are great for static equipment and for shipment to ports that do not have RO/RO capabilities. Construction equipment that can be dismantled are loaded into 20-foot or 40-foot containers and reassembled when they arrive overseas. Often, this option can provide savings to shippers in the form of lower freight costs and duty rates. However, shippers may have to dismantle and reassemble the equipment themselves or otherwise pay for dismantling services. Equipment that exceeds the width and height of a container can be transported on a flat rack container. Flat racks only have two sides, so the bulky equipment can stick out of the container during transport. No matter what the situation is, K International Transport can help shippers find the best mode of overseas transportation for construction equipment.
With an experienced freight forwarding company like K International Transport, shippers can rest assured that their equipment can be transported to Africa safely, efficiently and for an affordable price. We will help clients through every part of the shipping process. Some popular ports in Africa include:
Lagos, Nigeria
Mombasa, Kenya
Abidjan, Ivory Coast
Tangier, Morocco
Port Djibouti
Durban, South Africa
K International Transport can also ship equipment to Europe, Oceania, Australia, and South America!
Information Needed for Construction Equipment Shipping
After all the documents are prepared and the equipment is ready to be shipped, clients working with K International Transport can request a price quote for the shipment. To get a quote, visit the rate request page or contact K International Transport by phone, email, or Skype. There is certain information about the cargo you must know to get an accurate rate, including the dimensions of the equipment, which consist of the length, width, height, and weight. K International Transport will also need to know the year, make, and model of the heavy equipment. You should also decide which port you will need to ship to, which method you may want to use (RO/RO or container), and whether you will need inland trucking and transportation services for door-to-port transport or dismantling services. Once K International Transport gives you the lowest possible rate for your equipment, you can proceed with the shipment by telling an agent your preferred schedule for export, submitting the necessary documents, and paying the price in full. Some required documents include the title of the equipment, the identification of the shipper and the consignee, and a power of attorney form. Once the process has started, K International Transport will take care of their client's cargo every step of the way, including customs regulations at the destination port.
With a reliable international shipping company like K International, transporting heavy construction equipment from Kobelco/Komatsu/Hitachi/Caterpillar, including excavators, bulldozers, cranes, and more is hassle-free and affordable. Call us at 212-267-6400 or send us an email at inquiries@kinternational.com. You can also reach out to us on Skype at kinternationalny. We look forward to working with you!