For clients looking to transport construction equipment to South Africa, look no further than the largest and busiest shipping terminal in sub-Saharan Africa: Port Durban. Port Durban is located on South Africa's eastern coast and is well-known for its size, efficiency, and capacity. Shippers love the port for its facilities that allow Port Durban to accept all kinds of cargo. The port has a container terminal, a roll-on/roll-off (RORO) terminal, a multi-purpose terminal, a car terminal, and other terminals which may be utilized depending on the cargo shipped. Port Durban also boasts several storage facilities that might be of use to clients, as well as rail tracks totaling 188 miles. Clients should know that Port Durban is also planning to expand. Its $7 billion modernization and expansion plan will increase efficiency and improve its standing as Africa's most important port by 2031.
Although Port Durban is known for importing raw materials and industrial equipment, clients can transport virtually any cargo to South Africa from the United States through Port Durban, including high-heavy construction from brands like Caterpillar, Volvo, Kobelco, and Komatsu. A reliable and experienced international shipping company like K International Transport loves to ship cranes, bulldozers, excavators, dump trucks, stone trenchers, and other large equipment to Port Durban! Shippers can rest assured because K International Transport has decades of experience transporting construction equipment, regardless of the dimensions, model, or brand of the equipment.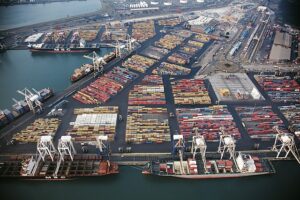 Once a shipper determines that Port Durban is the right destination, the shipping process can begin. First, they must submit required documents to K International Transport, including prepayment in full, identification information for the shipper and consignee, a signed power of attorney form, and certificates of title for the equipment. A bill of lading may also be required, because it will allow a consignee to take possession of the cargo in Durban. Port Durban may also have document and customs requirements, including cleaning and inspection, which clients should research prior to shipping at the port's website.
K International Transport will then ask clients how they will get the equipment to the domestic port in the United States, which can be in New York, Maryland, Virginia, Georgia, Florida, Texas, Washington, or another more convenient port. If the client is unable to transport the Kobelco, Komatsu, Hitachi, or Caterpillar equipment to the domestic port in the United States, K International Transport can set up inland trucking and transportation services with a reputable company. The trucking company will deliver the equipment from the door to the port safely.
Finally, the equipment will be loaded onto the vessel. Construction equipment can be shipped via RORO vessels or by container. RORO is most common for towable and self-propelling equipment because the equipment can be driven onto and off of the vessel. Containers are great for static equipment. Construction equipment that can be dismantled would be loaded into 20-foot or 40-foot containers and reassembled when it arrives overseas, but note that shippers may have to dismantle and reassemble the equipment themselves, or otherwise pay for dismantling services. Equipment can also be shipped via flat rack if it exceeds the width and height for a standard container.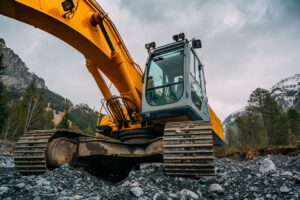 After all the documents are prepared and the equipment is ready to be shipped, clients working with K International Transport can request a price quote for the shipment. To get a quote, visit the rate request page or contact K International Transport by phone, email, or Skype. There is certain information about the cargo you must know to get an accurate rate, including the dimensions of the equipment which consist of the length, width, height and weight. K International Transport will also need to know the year, make, and model of the heavy equipment. You should also decide which port you will need to ship to, which method you may want to use (RORO or container), and whether you will need inland trucking and transportation services for door to port transport or dismantling services. Once K International Transport gives you the lowest possible rate for your equipment, you can proceed with the shipment by telling an agent your preferred schedule for export, submitting the necessary documents, and paying the price in full.
With a reliable international shipping company like K International, transporting heavy construction equipment from Kobelco/Komatsu/Hitachi/Caterpillar, including excavators, bulldozers, cranes, and more is hassle-free and affordable. Call us at 212-267-6400 or send us an email at inquiries@kinternational.com. You can also reach out to us on Skype at kinternationalny. We look forward to working with you!