When most people think of international shipping, they picture a large vessel traveling thousands of miles across oceans. They visualize hundreds of neatly packed containers holding diverse items. They imagine dozens of cars stacked and fastened next to each other, with construction equipment, such as cranes and bulldozers, not too far off. While this is not an inaccurate description, there are many other ways of transporting goods overseas. Luckily, K International Transport is here to help customers with all their shipping needs.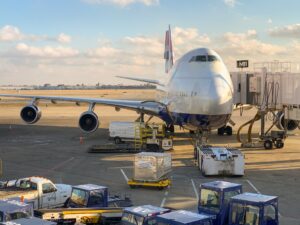 Air Freight Shipping
One alternate option for transporting cargo is via air freight. Did you know that 52 billion tonnes of cargo are shipped via air annually? Depending on the commodity, the client's budget, and the time constraint placed on the service, this is often a very viable alternative to ocean freight for some. For more valuable items and cargo that needs to arrive quickly, air freight travel can make more sense. Air shipping ensures items are more protected and safe. Additionally, whether the shipper is a company, an organization, or possibly an individual moving overseas to start a job, air freight is a faster way to move cargo to another country. Air shipping can cut a 20-30 day sea trip down to two to three days. Location is also never an issue because planes can travel anywhere. The most common goods that are shipped via air include personal items, electronics, medical supplies, and general equipment.
General Cargo & Special Cargo
There are two categories of air freight travel, general cargo and special cargo. General cargo consists of everyday items and special cargo is reserved for items that have specific regulations in order to be shipped. There are also situations where it does not make sense to use air freight services. Shipping via air is often more expensive as extra fuel, airport, security, and drop-off expenses can occur. Today, climate change is on the forefront of everyone's mind. It is important to understand that planes contribute more emissions than any other shipping method. Lastly, very heavy items, like cars, should not be shipped via air. For the most affordable and clean experience, air freight should only be used when absolutely necessary.
No matter what the motivation for considering air freight over container shipping, it is important to communicate openly with the international shipping company in order to obtain the company's advice about the best method of shipping for the particular situation. K International Transport can help with all associated shipping needs and wants to ensure the easier process for customers possible. We hope you consider us given all our international shipping experience! Call us at 212-267-6400 or send us an email at inquiries@kinternational.com. You can also reach out to us on Skype at kinternationalny. We look forward to working with you!