With a reliable and experienced international shipping company like K International Transport, transporting automobiles overseas can be hassle-free and affordable. In light of shipping trends of increased volumes of new car shipments to Estonia, and Port Paldiski's efforts to modernize and expand its capacity for accepting new vehicles, transporting autos to Estonia has never been easier! K International Transport can help clients transport cars of all makes and models to Port Paldiski from all ports in the United States, so that even new shippers can have a good level of understanding and comfort with the shipping process.
Shipping to Port Paldiski, Estonia:
Port Paldiski has become a busy and important stop for the Baltic Sea Roll-on/Roll-off (RO/RO) shipping lines, and has recently experienced a surge in the shipment of new automobiles. The port is located on Estonia's northwestern coast and just 45 kilometers west of the capital city of Tallinn. Port Paldiski is a key Baltic port offering service to Europe and ports around the world, so it can be a destination port for United States shippers, as well as a stopping point on the way to another European port. The port has popular connections to ports in Finland, Sweden, Russia, the Netherlands, Belgium, Germany, and the United Kingdom. The port focuses mainly on RO/RO services, and services Estonian cargo as well as transit cargo. Port Paldiski is especially known for handling general cargo, break bulk cargo, solid bulk goods, liquid bulk, and new passenger automobiles. To accommodate the new automobile shipments, the port has three terminals for use in shipping to Estonia and other Baltic states.
All in all, Port Paldiski is an efficient and modern port for accepting all vehicles. Shippers should feel comfortable transport autos to Estonia, especially with the help of an impressive freight forwarder like K International Transport!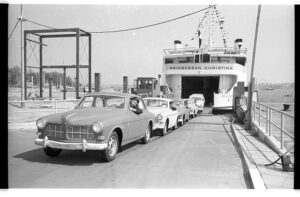 Shipping automobiles, generally:
To begin the process of transport cargo overseas, shippers will be asked for several documents, including the original title of the car, their identification (including full name and address), the consignee's identification and contact information, prepayment in full, proof of the commercial value of the automobile, and a signed power of attorney form to allow K International Transport to legally manage the shipment. K International Transport will also ask clients for their desired schedule or date of shipment as well as the car's location in the United States. This will help us select the right domestic port and the best shipping date and carrier for the shipper's needs.
Once this is handled, the shipper will have to transport the automobile to the domestic port. If the shipper is unable or unwilling to do this, no worries! K International Transport has a great professional relationship with a reliable and safe inland trucking and transportation company that can transport the automobile from door to port.
Afterwards, the car will simply be driven onto the RO/RO vessel, saving clients a ton on loading and unloading costs. The only thing left to do after this step is to meet the vessel in Estonia, or another designation port.
Additional information to be aware of:
1) Classic and vintage automobile imports to European countries are often the most expensive because RO/RO vessels often cannot be used. Because of this, vintage and classic cars must be loaded onto the vessel once it is in a container, rather than simply driven onto the vessel. However, an important benefit to shipping with a container is that other personal effects, such as household goods, may be loaded in the container as well and can travel with the automobile!
2) Many ports impose tariffs associated with automobiles. Cars transported to Europe can face up to 10% in import duties and approximately 20% value added tax depending on the country, the port, and the age and make of the vehicle. Clients may also need to retrofit their automobiles to European specifications, including various registration and licensing requirements.
To deal with the potential tariffs and regulations, clients should be sure to contact customs in the destination country and determine what needs to be done before shipping so that extra costs do not come as a surprise.
Although clients may be overwhelmed by the concept of transporting often valuable automobiles, a reliable international shipping company like K International Transport can help demystify the process. K International Transport is an expert in the freight forwarding field and can relay important information to clients to minimize the burden.
Contact K International Transport today for questions or international shipping quotes to the Middle East, Europe, and West Africa. Call us at 212-267-6400 or email us at inquiries@kinternational.com. You can also reach out to us on Skype at kinternationalny. We look forward to working with you and shipping your automobile!