Shipping cars overseas have long ceased to be a big deal, but certain destinations around the globe still remain less accessible than others, as in the case of Montenegro.
Bar, the main port of the country, with a documented history that goes back to at least the 16th century, has become an increasingly popular destination. Not only has it become popular among Montenegrin expats, but also European and American citizens who have dreamed of a vacation house by the sea their whole life, but could not afford to pay for one on the legendary Côte d'Azur or the picturesque Amalfi Coast. Some choose to rent a car there to travel around and not be bound to one single place, while others, looking for just the same freedom, prefer to have their own vehicle shipped to Montenegro, even if it is only for a few months a year.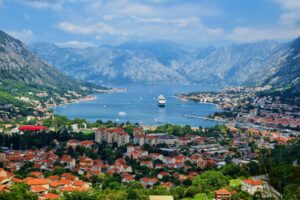 Many international transport companies list Bar among their ports of call, often also advertising RO/RO (roll on/roll off) service as an option for this destination. However, this type of service has not been available for quite some time now. = This is due to Bar never reaching its full capacity since King Nikola I solemnly plunged the first foundation stone in 1905. But Port Bar has actually witnessed a decrease in recent years in the amount of cargo that passes through its facilities, making shipping cars and other vehicles via container service the only reasonable alternative to get them directly to Montenegro.
Shipping Options to Montenegro
K International, thanks to its professional warehouses strategically located near the most prominent US ports, has the capacity to offer container service for worldwide auto shipping that is almost as easy and hassle-free as RO/RO service. New York, Baltimore, Savannah, Miami, Houston, and even Los Angeles and Seattle: you can ship your car to Montenegro from any of these ports with us! What's more, unlike RO/RO service, shipping vehicles via container service allows you to put your personal effects, spare parts, and other items both inside the car and outside. This is one of the main pros of international container shipping, and, together with a significantly higher level of cargo protection, it is the reason why many people choose this type of service even for destinations to which RO/RO is also available.
If dealing with warehouses and containers is too much for you, however, we can offer RO/RO service to neighboring countries such as Slovenia, Greece, and Italy (there is a very convenient ferry line connecting Bari and Bar across the Adriatic Sea).
So what are you waiting for? Give us a call today at +1 (212) 267-6400 or send us an email at inquiries@kinternational.com to find out how easy it is to ship your car to Montenegro with us!