Spring is just around the corner and, like every year, it is going to bring an abundance of classic car shows all over the northern hemisphere. But longer, warmer days are themselves a good enough reason for vintage car owners to pull out their darlings, polish them up, and dart across big cities and the countryside alike, in the mountains or by the sea, finally leaving winter's gloom behind and passers-by in awe.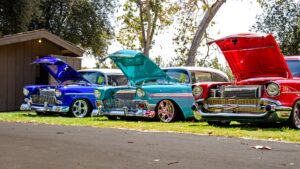 Vintage Car Transport
Whether you are planning to take part in a classic car fair overseas or simply long for the vernal breeze of another country to comb your hair, while you are sitting behind the steering wheel of your motorized jewel, K International can help you fulfill your intentions. International vehicle shipping has been a staple of our freight forwarding business for well over 25 years, and there is little we do not know about it. Nonetheless, inquiries about worldwide auto shipping for vintage and/or customized cars still thrill us like newbies.
We understand the unicity of each such vehicle and the concerns every proud owner has when it comes to having their sweetheart handled by others. Having a company like K International on your side, with our meticulous attention to detail and constant striving to make our customers' experience as smooth as possible, is a sound choice that will allow you to feel in control during each phase of your shipment, but without unnecessary headaches.
Vintage Car Overseas Services
Thanks to our capillary network across the US and trusted international car transporters abroad we have long been partnering with, we can cater highly tailored solutions to even the most demanding client. We offer a wide array of services, and we are always happy to advise on what is available and/or most suitable on a case-to-case basis. Enclosed car carrier service for inland transportation and shipping via container service are what most classic car owners opt for, and our professional drivers and warehouse workers have extensive experience in handling all kinds of vehicles, even non-running units. Air freight is another option some owners are willing to pay for to have their car moved quickly and safely from one country to another.
Paperwork is a crucial step in every international shipment, regardless of the commodity. Here at K International we do not leave anything to chance, and we patiently walk our customers through the entire bureaucratic process where their personal input is required, while taking care of everything else that can be done without bothering them. When it comes to international car shipping, we can provide assistance with, among other things, US Customs title clearance, ATA carnets for temporary imports, and, depending on the destination country, the fulfillment of local customs formalities, container handling, and delivery to your preferred address.
Give us a call at +1 (212) 267-6400 or send us an email at inquiries@kinternational.com to find out why shipping your classic car with us is a great move!