With K International Transport, international shipping services to Port Santos can be easy, hassle-free, and affordable. Shippers can rest assured that having a reliable and experienced international shipping company as well as an efficient and large port will help them transport all types of automobiles and construction equipment to Brazil without much stress.
Port Santos, Brazil
Port Santos is located in São Paulo, Brazil, and is the largest port in Latin America. The port accepts cargo from every region in the world, and virtually all ports, because of its size, efficiency, and handling capability. Because of this, clients shipping to Brazil, or other countries in Latin America, should consider choosing Port Santos as the destination port. This is true regardless of the cargo shipped, because the port contains terminals for solid bulk, liquid bulk, containers, and general loads. In addition, Port Santos is closely located to several railway systems, allowing shippers to transfer their cargo easily from the port to other locations in South America.
Clients should also be happy to hear that Port Santos is undergoing a revitalization, which includes a deepening of the channels, creating more truck storage facilities, and improving transportation systems technologies. Port Santos can handle 97 million tons of cargo annually, and will raise this number to 230 million tons within the next few years!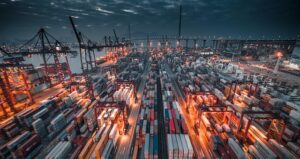 International Automobile Shipping
Transporting automobiles via roll-on/roll-off shipping (RO/RO) is easy and efficient, as it only requires the car to be driven onto the vessel. RO/RO shipping is often less expensive because of the simplicity of loading, so clients can usually benefit by opting for RO/RO services if their vehicle allows.
For transporting a vintage or classic vehicle, especially one that is non-running, container shipping may be the best way forward because a container can accommodate vehicles without wheels or driving capabilities. Container shipping is also great for clients that are looking to ship personal effects along with their vehicle, because RO/RO does not allow additional cargo to be kept in the car.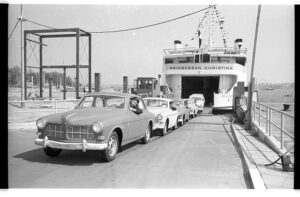 International Construction Equipment Shipping
All high-heavy equipment can be transported to Brazil, regardless of how bulky or heavy it is. K International Transport has decades of experience shipping all construction and high-heavy equipment, and can help shippers navigate the often confusing process. Like automobile shipping, wheeled construction equipment can often be transported via RO/RO, while other types of equipment and equipment parts can be transported in a container. There are various types of containers, including flat racks, that can accommodate equipment that is too bulky to fit into a traditional 20 foot or 40 foot container. Just tell your reliable freight forwarder about the dimensions of your equipment, and the shipping solutions will be determined.
Shippers transporting Kobelco, Komatsu, Hitachi, and Caterpillar equipment often ship:
• Excavators
• Cranes
• Bulldozers
• Dump trucks
• Stone Cutters
• Tractor Trailers
• Agricultural Equipment
• Scientific Equipment
• Mining Equipment
Clients should also keep in mind that there may be customs and import requirements at various ports regarding construction equipment, including cleanliness and maintenance requirements. Some rules and regulations are more strict than others, and it is important to know and understand what is required before shipping the cargo overseas so that the cargo is not rejected and the client is not charged a fee. Some ports have more specific inspection and cleaning requirements for used construction equipment.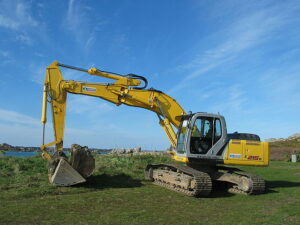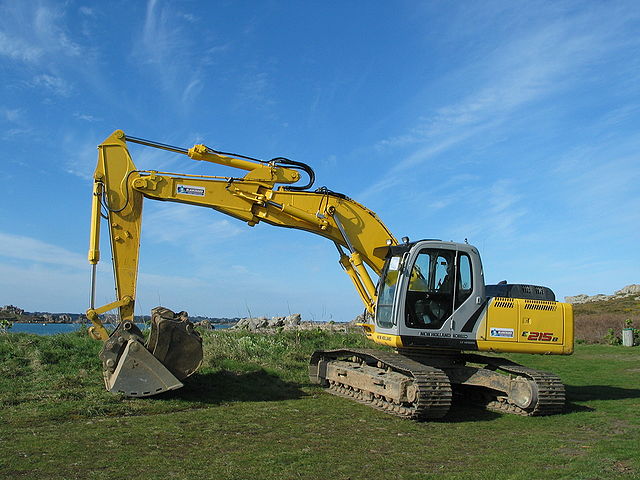 International Shipping of Personal Effects
For clients shipping both an automobile or construction equipment and personal effects or household items, such as furniture and clothing, containers can be used to ship the cargo. To ship a car and personal effects, clients have two options. They can place the personal effects inside the automobile, or, if there are too many items to fit in the car, the items can be loaded in a container. The container will have both the automobile and the personal effects.
For clients looking to transfer only personal effects and household goods, they can choose to transfer the items via container or Less-than-Container-Load (LCL). For a very large quantity of personal goods, a 20 ft container may be the best option. However, for clients with less cargo, LCL is an affordable and efficient option. LCL allows multiple people to share a single container. With this option, the goods need to be packed and palletized, and the client must submit a packing list and include the dimensions and weight of each item.
With container and LCL, the client must load the personal effects onto the container themselves. Although this includes a bit more work for the shipper, it is a very affordable option. Keep in mind that in order to load the container, a tractor trailer must be able to enter the residential area, there must be sufficient parking and loading space for the truck with the container, the client is responsible for loading the container, and containers come in a chassis, which is about 4 feet above the ground and there is no ramp.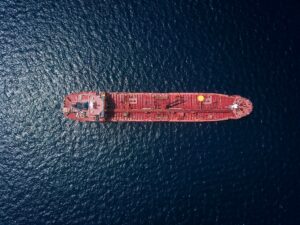 With an experienced freight forwarding company and logistics company like K International Transport, clients can be sure to not only get the most affordable, practical, and fast shipments to virtually every port in the world, but will also receive in depth advice and counseling in regard to their specific vehicles, construction equipment, or personal effects, and desired shipping schedules. Shippers can transport cargo to Brazil through any domestic port, including those in New York, Maryland, Virginia, Georgia, South Carolina, Florida, Texas, California, or Washington!
For more information about how K International Transport can help you transport your automobiles, cars, vehicles, and construction equipment overseas quickly and economically, call us at 212-267-6400, email us at inquiries@kinternational.com, or reach out to us on Skype at kinternationalny. For an international shipping quote, visit our rate request page today.