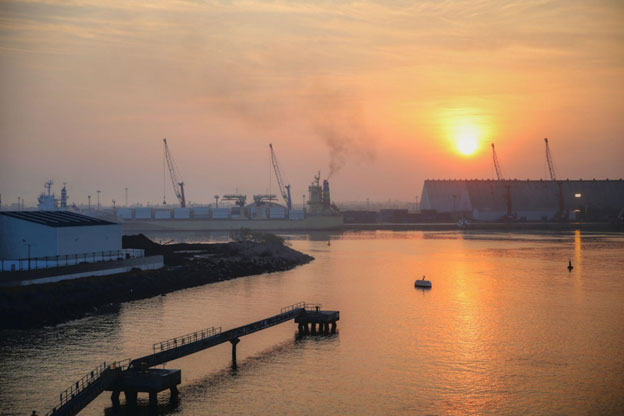 Port of Guatemala City, Guatemala, by todamo on Getty Images
Located in a mountain valley in the south-central part of the country, Guatemala City, or Guate, is the capital of Guatemala. Guate is not only an important metropolitan center for Guatemala but for all of Central America, as it is the most populous city in the region. Aiding with this regional significance is Guatemala City's international container shipping port. The port of Guatemala City is able to accept both imports and exports through multiple terminals, with both roll-on/roll-off (RoRo) and container services.
Because of the country's emerging manufacturing economy, significant imports into Guatemala through the port of Guatemala City include construction equipment and gin machinery. The Port's efficiency and size are able to handle many tons of equipment and allow the economy of Guatemala to flourish with the increase of manufacturing and construction equipment coming into the country through RoRo and container shipping.
Some notable features of the port of Guatemala City, Guatemala include:
The Port of Guatemala City is Guatemala's largest Pacific port, and is responsible for a wide majority of the country's maritime traffic beginning during the 20th century.
The port accepts approximately 358,000 containers of various sizes every year.
The container cargo that Guatemala handles annually is competitive among other Central American countries. By the number of tons accepted annually, Guatemala is behind only Costa Rica and Panama.
The Port of Guatemala City is currently undergoing renovations. With the additional terminal, the port will be able to accept about 340,000 more containers annually when the facility becomes operational.
The port can accept all types of construction equipment, such as cranes, bulldozers, and dump trucks, as well as manufacturing equipment, like gin machinery. These imports are among the most popular in the port, as they contribute to the growth of Guatemala's economy through the manufacturing industry.
For more information about the port of Guatemala City and international shipping services to Guatemala, visit our rate request page to receive an international car, high heavy, construction equipment, and container shipping quote or to receive more information on our international shipping services.