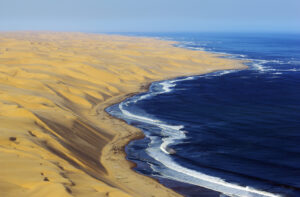 Port Walvis Bay is located on a bay on Africa's west coast in Namibia. Because of its location on a natural deepwater harbor, Port Walvis Bay is safe for vessels of all sizes, and provides a port for international transport for Namibia and other surrounding countries such as Botswana, Zambia, and the Democratic Republic of Congo. The port can handle approximately 400,000 containers per year, and is being upgraded to increase its cargo export and import potential.
Popular items imported into Namibia through Port Walvis Bay include construction equipment such as excavators, cranes, bulldozers, dump trucks, and stone trenchers from Kobelco, Komatsu, Caterpillar, and Hitachi, automobiles of all makes, models, and years, and personal effects via containers or roll-on/roll-off (RoRo) vessels.
Some notable features for the port of Walvis Bay, Namibia include:
Port Walvis Bay is located on the only natural harbor of any size on the western coast of Africa.
When the port opened in 2000, it accepted approximately 30,000 containers per year. In 2016, Port Walvis Bay reported accepting about 370,000 containers annually.
With ongoing upgrades and renovations, the port expects to have the potential of accepting up to one million containers annually.
For more information about the port of Walvis Bay and international shipping services to Namibia, visit our rate request page to receive an international car, high heavy, construction equipment and container shipping quote or to receive more information on our international shipping services.