When it comes to shipping agriculture equipment overseas to places like South America, no one is better for the job than K International Transport! As a reliable international shipping company that has been in the business for decades, we are here to help make the process of shipping international equipment as easy as possible. We make shipping convenient and affordable.
Exports from and to Brazil
The main ports in Brazil are Port Rio De Janeiro, Port Santos, Port Vitória, and Port Grande, with Port Santos being the largest across all Latin America. There are 28 ports in total, which are located all along Brazil's coast and receive over 700 million tons of cargo per year. The most common exports out of Brazil include sugar, soy, coffee, corn, wheat, salt, citrus fruits, paper, automobiles, and alcohol, while common imports include vehicles and construction equipment. Brazil is the 7th largest export partner for the United States, and K International Transport can ship from almost anywhere in the US including New York, Maryland, South Carolina, Georgia, Florida, Texas, California, and Washington. Shipments from the US to Brazil usually take between 30 and 40 days to arrive.
Shipping to Brazil's Ports
A crucial step in the export and import process is following Brazil's specific rules for shipping. First, the cargo must be registered with the Foreign Trade Secretariat (SECEX) of the Ministry of Industry, Commerce, and Tourism (MICT). Next, the country uses a local classification system, so a Nomenclatura Comum do MERCOSUL (NCM) number must be stated. Additionally, a Master and House Bill of Lading and a commercial invoice are required. General necessary documents are also needed including identification information about the cargo such as length, width, height, and weight, a power of attorney for easy handoff from owner to shipping company, and proof of the original invoice. Lastly, cargo must be clean and in good operating condition.
Another fundamental step is determining the best method for shipping specific cargo. K International Transport has vast expertise in this field and can help make the decision seamless for the customer. Vehicles and heavy equipment are often shipped by roll-on/roll-off (RO/RO) service, where the cargo is driven directly on and off the vessel. The cargo is protected throughout the entire journey from sun, rain, and other weather conditions. This type of service is also more affordable because the process is rather simple, and less effort is required to make it go smoothly. On the other hand, RO/RO has certain size and weight constraints and may not be the optimal solution for all types of shipments. That is why K International Transport also specializes in container shipping, which can be utilized for a larger variety of cargo. There are many different types of containers, so customers can be confident that they will be offered the most suitable option for their specific needs. Among the vast array of container types available there are dry storage containers, flat rack containers, and open-top containers. Ports in Brazil are equipped to handle both RO/RO and container shipments.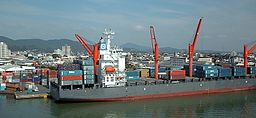 With a reliable international shipping company like K International Transport, transporting heavy construction equipment by Kobelco, Komatsu, Hitachi, and Caterpillar, including excavators, bulldozers, cranes, and more, is hassle-free and affordable. We hope you consider us given all our international shipping experience! Call us at 212-267-6400 or send us an email at inquiries@kinternational.com. You can also reach out to us on Skype at kinternationalny. We look forward to working with you!