When most people think of shipping they think of construction equipment, agricultural supplies, and vintage cars. But what about shipping boats? Luckily, K International Transport is a leader when it comes to international shipping and can help with all boat-related shipping questions. As a reliable international shipping company that has been in the business for years, we are here to help make the process of international boat shipping as easy as possible. We make shipping convenient and affordable.
The main arrival port in Greece is port Piraeus, located in Athens. It is the second-largest Mediterranean port and one of the largest in Europe, receiving 25 million tons a year. The port contains three terminals for cargo, with a total capacity of 6.7 million TEUs, and the western part of the port is dedicated only to freight services. K International Transport can ship from almost anywhere in the US including New York, Maryland, South Carolina, Georgia, Florida, Texas, California, and Washington. We can also provide door pick-up or inland transport of boats. Shipping will take approximately five weeks, and the price will depend on the departure location and the length and weight of the boat.
The next step in the process is to gather the required documentation to get the boat overseas. While there are some similarities between shipping boats and other cargo, it is important to pay attention to the key differences. One will need both a bill of sale, a bill of landing, and other shipping documents to show proof of the possession of the item. Detailed information about the boat's length, height, and width is necessary, and it is important to fasten all extrema, so the measurements are accurate.
Now the boat is ready to be shipped! First, make sure the boat is in its best condition by thoroughly cleaning, securing all parts, and emptying the tank. Next, one has to decide what method they would like to use to ship their cargo. Roll-on/roll-off (RORO) is the most common method for boats and is one of K International Transport's specialties. For this method, the cargo is rolled directly on and off the shipping boat in a wheeled trailer and stays there for the entire trip. It is very easy and ensures that few errors occur. Alternative options include closed containers and flat racks. Closed containers can have some benefits, but it has stricter limits on dimensions. Flat racks are best for oversized cargo.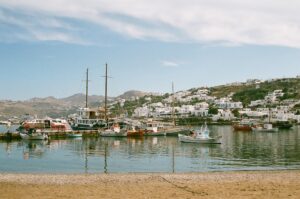 Ready to get started? Being the process here!
With a reliable international shipping company like K International Transport, transporting yachts, sailboats, pontoon boats, fishing boats, cruiser boats, personal watercraft and more is hassle-free and affordable. We hope you consider us given all our international shipping experience! Call us at 212-267-6400 or send us an email at inquiries@kinternational.com. You can also reach out to us on Skype at kinternationalny. We look forward to working with you!