K International is here to help make the process of shipping both automobiles and personal effects to Japan easy and practical. With years of experience, K International is a reliable international shipping company and is savvy at transporting international shipping goods like cars and personal effects overseas to Port Tokyo, Japan!
Tokyo is one of the largest cities in the world, and the port receives up to 100 million tonnes of cargo per year. The port is also one of the largest across the entire Pacific Ocean. Additionally, the port is equipped to handle everything K International Transport can help send because it has separate terminals for automobiles, construction materials, and containers. We can also help ship from anywhere in the US including, New York, Maryland, South Carolina, Georgia, Florida, Texas, California, and Washington. We work with an inland trucking company that moves equipment from the client to the US port making the process easy and affordable.
Wether shipping automobiles, personal effects, or something else, one of K International transport's specialties is helping clients decide which method of shipping is the best. RORO is our most common method because the cargo is driven directly onto and off of the ship via a ramp, so there is little room for error. The cargo remains protected and it takes relatively little effort to ensure this. RORO also makes for an easy drop-off into the new port. Alternatively, container shipping requires the cargo to be dismantled upon departure and constructed at arrival. Sometimes, container shipping is preferred for personal effects like furniture, clothing, equipment, or other bulky items. For more information on shipping cars, refer to our overseas transport services.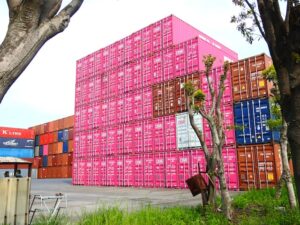 We hope you consider shipping to Tokyo, Japan with us given all our international shipping experience! Call us at 212-267-6400 or send us an email at inquiries@kinternational.com. You can also reach out to us on Skype at kinternationalny. We look forward to working with you!