When it comes to shipping construction equipment overseas, look no further than K International Transport! As a reliable international shipping company that has been in the business for years, we are here to help make the process of shipping international construction equipment as easy as possible. With loosening restrictions and more travel opportunities, Europe is the place to be.
The London port is located in Liverpool, UK, on the bank of River Mersey and has been a trusted partner for decades. The port accepts shipments from anywhere in the U.S., including, but not limited to New York, Maryland, South Carolina, Georgia, Florida, Texas, California, and Washington. We work with an inland trucking company that moves equipment from the client to the U.S. port making the process easy and affordable. Deciding which port to ship from is a key step in the process and we are here to help.
The Liverpool port is one of the largest in the United Kingdom and recently underwent a major expansion project. The newly updated port is full of cutting-edge innovation and sustainability practices. The port is equipped to handle a variety of cargo and accepts all services. It also serves as a hub for overseas shipping, providing key links to other ports in the area.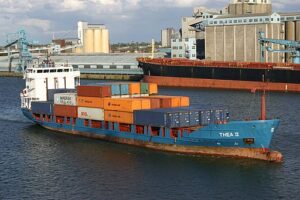 Documentation for Shipping
Before the shipping process begins, it is necessary to have all the required documentation. Each port is different, so it is important to understand the relevant customs and regulations. The first step is getting a power of attorney so the shipping equipment can be handled. Next, identifying information on who is sending and receiving the shipment, the dimensions of the cargo, and a certificate of title are often required. Lastly, a prepayment fee must be paid to K International Transport.
Cargo and Methods of Shipping
Additionally, K International Transport can ship almost all cargo. For construction equipment, we ship excavators, bulldozers, tractors, cranes, and stone trenchers from manufacturers like Volvo, Caterpillar, Hitachi, or Kobelco. We also accept a range of dimensions and sizes of equipment.
Another crucial step of the process is deciding the best method of shipping cargo overseas. The two methods we specialize in are roll-on/roll-off (RO/RO) and container shipping services. RO/RO is our most common method because the cargo is driven directly onto and off of the ship via a ramp, so there is little room for error. The cargo remains protected and it takes relatively little effort to ensure this. RO/RO also makes for an easy drop-off into the new port.
Alternatively, container shipping requires the cargo to be dismantled upon departure and constructed at arrival. This method uses different containers including flat racks and MAFI trailers for different types of equipment. While we help provide the best method of transport possible, ports often have restrictions on the condition of the cargo while it is being shipped.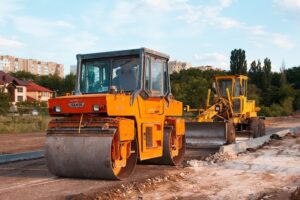 With a reliable international shipping company like K International Transport, transporting heavy construction equipment from Kobelco, Komatsu, Hitachi, and Caterpillar, including excavators, bulldozers, cranes, and more, is hassle-free and affordable. We hope you consider us given all our international shipping experience! Call us at 212-267-6400 or send us an email at inquiries@kinternational.com. You can also reach out to us on Skype at kinternationalny. We look forward to working with you!