Are you looking to ship agricultural equipment and farm machinery overseas from the United States? Shipping sprayers, loaders, seeders, planters, tractors, combines, flex header, tillage equipment, harvest equipment, corn herders, and other farm equipment internationally from the United States can be done in three simple steps. K International Transport can help ship anywhere in the world, including Port Southampton, United Kingdom.
Port Southampton is an efficient and reliable port that can accept agricultural and high-heavy equipmentvia roll on/roll off service in 20 or 40-foot containers, as well as parts of machinery on palletsvia less than container load (LCL) service. We love to transport all equipment to the United Kingdom, including:
Volvo SK210LC-10 Long Reach Excavators
Hitachi Wheel Loaders and Double Arm Working Machines
CAT 816K Landfill Compactors and 825K Soil Compactors
John Deere C650 Seeder Air Carts and SS1022B Spreaders
Continue to read below to see how international shipping servicesfor farm and agricultural machinery from the USA can be as simple as 1-2-3.
Step #1: Receive an International Shipping Quote
In order to ship your farming and agricultural equipment and machinery overseas, you will first need to receive a quote. Besides telling the overseas shipping company what country you are trying to ship to, you will need to also provide other information and documents.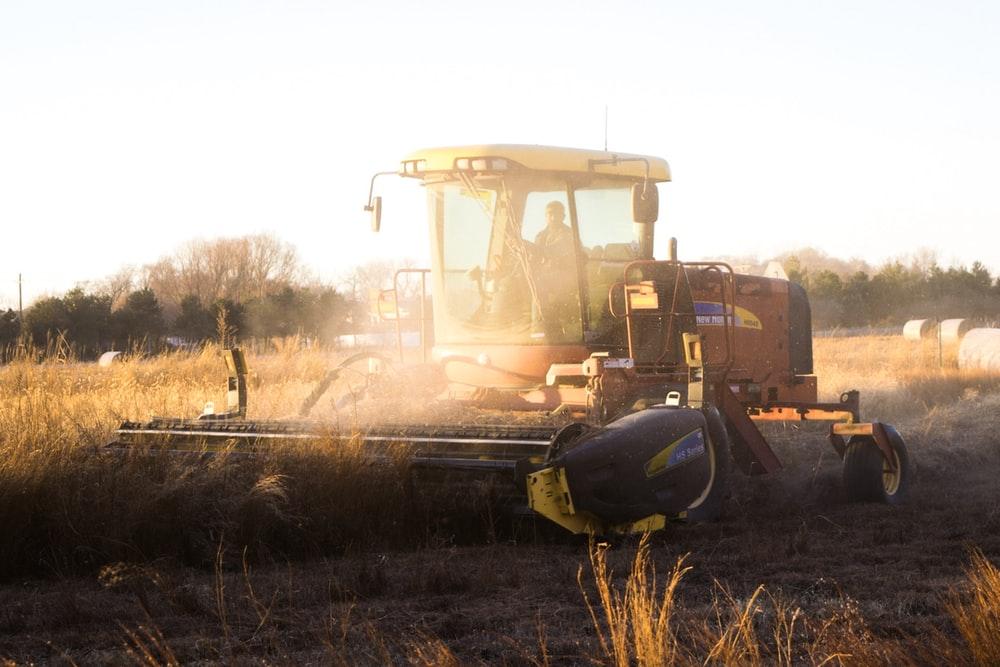 Person riding brown combine harvester during the daytime, Photo by Noah Buscher @noahbuscher
Before you send in your request for a rate, make sure you also have the following information available: length, width, height, and weight of the units. If you are looking to ship a sprayer overseas, this unit is self-propelled and can be transported via roll-on/roll-off (RORO) vessel. If you are shipping a different type of farm machinery that is not self-propelled, you will need to indicate if it (1) has wheels and can be towed or (2) if it is static and needs to be lifted.
Finally, if you need the unit picked up, you should provide the city, state, and zip code where the equipment is located. K International Transport can provide reliable inland trucking and transportation services from your door to the port.
Step #2: Prepare your Agricultural Equipment and Farm Machinery for International Shipment
Before shipping your machinery overseas, you should make sure it is ready to handle the journey. Self-propelled equipment should be in working order with proper tires, well-functioning engines, and no engine leaks. All equipment, whether it is self-propelled, towable, or static should be clean and free of all dirt and grease.
Any unit that is not in good condition and is dirty, leaking, or not properly running can be rejected from the port terminal. If the international shipping company is picking up the equipment, you will need to make sure the loading facility has the proper equipment necessary to load the machinery onto the back of the truck's trailer. Check with the loading facility if they have the necjessary forklift or crane to properly load the equipment on the back of the truck. K International Transport can help you keep track of all the necessary steps you will have to take to ensure that the shipment goes as planned.
Additionally, some ports and countries around the world have their own specific requirements that need to be satisfied. K International Transport will explain the specific requirements, which may include more specific cleanliness and operation conditions. This is especially true for used construction equipment. However, with K International Transport's high/heavy equipment shipping services, you will be well prepared to meet any requirements for your  agricultural equipment.
aerial photography of harbor, Photo by Wonderlane @wonderlane
Step #3: Ship your Agricultural and Farm Equipment Overseas
At this point, you know how much it costs to ship your unit, you've prepared your unit, and you have sent it on its way to the port. Now comes the time when you finally ship your machinery overseas. Towable and self-propelled farm machinery is shipped via RORO service while static agricultural equipment is either shipped inside a container, on a flat rack, or through breakbulk service.
You will need to make sure you provide your freight forwarder with the proper documentation including identification information for the shipper and consignee, a signed power of attorney form, original titles for the farm equipment,commercial invoice with the value, a packing list, and notify party information for the receiver in Southampton, UK, or wherever the destination for your cargo is.  You will also need to provide Once your agricultural equipment is shipped on the vessel, the overseas shipping company should provide you with a steamship line bill of lading, confirming that your cargo was shipped.
K International Transport has decades of experience transporting all construction and farm equipment, including excavators, bulldozers, cranes, stone cutters, and dump trucks. We love to transport heavy equipment to ports in the Middle East, West Africa, Europe, Asia, and all other regions of the world!
With K International Transport, shipping farm machinery and agricultural equipment overseas really is as simple as 1-2-3! To receive international shipping quotes for sprayers, combines, flex holders, harvesters, seeders, tillage machinery, planters, tractors, loaders, corn headers, and other agricultural equipment, click here to visit our rate request page. As one of the leading overseas shipping companies with international service to Europe, Asia, Latin America, the Far East, Africa, the Middle East, the Caribbean, and Australia, we provide some of the best international shipping rates for agricultural and farm machinery shipping. Send us an email at inquiries@kinternational.com or give us a call at 212-267-6400 or on Skype: kinternationalny.
two green and red cultivators on brown field Photo by Heiko Janowski @blixxmagger