With a reliable international shipping company like K International, shipping overseas to countries on the West African coast is easier than ever! We specialize in shipping construction equipment from companies like Caterpillar, including cranes, bulldozers, excavators, trucks, dump trucks, generators, tractors, and more!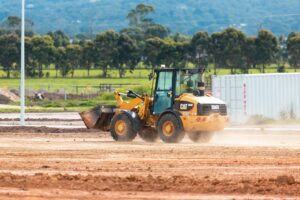 K International can help you ship construction equipment overseas to the Walvis Bay Port in Namibia, as well as any other country in Africa, for an affordable price. The Walvis bay port is the largest in the country and handles  3,000 vessel calls each year, totaling over 5 million tonnes of cargo. A new berth, the 11th, opened in 2019 which has helped establish them as a leading port in Africa. The port's mission is to "provide excellent port services to all seaborne trade, creating sustainable value for all our stakeholders." It is also a main tourist destination!
Caterpillar is one of the "world's leading manufacturer[s] of construction and mining equipment, off-highway diesel and natural gas engines, industrial gas turbines and diesel-electric locomotives," and K International Transport is very familiar with their products. They have been in business for almost 100 years and produced over $50 billion in revenue last year. Their main industries are Construction, Resources, and Energy & Transportation. They have roughly 300 products and specialize in trucks, pavers, loaders, dozers, excavators, extra parts and attachments, and more. Lastly, they also have a major commitment to sustainability by actively reducing their greenhouse gas emissions and helping their customers make the switch to renewable energy.
K International Transport can ship your cargo from any port in the United States, including those in New York, Maryland, Virginia, South Carolina, Georgia, Florida, Texas, California, and more! 
If your cargo is located outside of a port city, K International Transport offers inland trucking and transportation services to transport your belongings to a port before they are shipped overseas!
We ship to almost any country in Asia, South America, Africa, and Europe and ensure the cargo is protected along the way.
Transport is provided through flatbeds, step-deck trailers, RGN (removable gooseneck) trailers, and expandable trailers.
We offer many different methods including roll-on/roll-off services if you are shipping wheeled cargo.
Rigging and Dismantling services are easy to coordinate and we will even load your equipment for construction equipment shipping services for you!
and more!
Ready to get started? Click here for a quote today!
With a reliable international shipping company like K International Transport, transporting cars and vehicles is hassle-free and affordable. We hope you consider us given all our international shipping experience! For more information about K International, call us at 212-267-6400, email us at inquiries@kinternational.com, or reach out to us on Skype at kinternationalny. We look forward to working with you!