K International Transport is an established, experienced, and trustworthy international shipping company that specializes in overseas automobile shipping. We offer a variety of international shipping services and can ship from any port in the United States, including those in New York, Maryland, Virginia, South Carolina, Georgia, Florida, Texas, California, and more to almost anywhere in the world. If your cargo is located outside of a port city, K International Transport offers inland trucking and transportation services to transport your belongings to a port before they are shipped overseas!
Port George Town, Cayman Islands
Located on Grand Cayman, Port George Town is an important port for both cruise ships and cargo shipping. It began operating in 1979 and accepted just 50,000 tonnes annually. Today, the port has three pier terminals on the waterfront, the North Cruise Terminal, South Cruise Terminal, and Royal Watler Terminal, and handles up to three times its original amount of cargo. The port can also accommodate vessels up to 120m (400 ft) long and 40 tonnes, which have a water draft of no more than 5m (16.5 ft). Additionally, The South Cargo Pier is 440 ft long with a water depth between 12 and 26 ft. The port receives most of its imports from Florida, the USA, and Jamaica. Lastly, its mission is to "foster a culture of excellence in service and care coupled with collaborative efforts that focus on sustainability through the provision of innovative, safe, efficient solutions which will stimulate and facilitate waterborne commerce, trade, and leisure travel resulting in the continued economic development of the Cayman Islands."
Shipping Process and Steps
Each country and port has its own process for how to properly ship to the specific destination. It is important to research the necessary documents and if there are any particular customs laws. Generally, these include a bill of the invoice, bill of lading, certificate of origin, and detailed identification information about the cargo.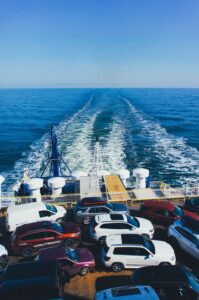 There are a few key steps when it comes to shipping cars internationally, and K International Transport can help with every part of the process. We will provide a car shipping quote and handle other important documents. The client will also need to detail some personal information, identification information about the cargo, proof of ownership, and possibly a bill of sale or power of attorney.
K International Transport can also help determine which method for shipping cars should be used. For cars, Roll-on/roll-off (RO/RO), container shipping, and air freight services are all viable options. RO/RO is where the car will be directly driven onto the ship, creating easy entry and exit points. Container shipping has no limits and gives the car its own enclosed area. The port also handles break and bulk-break shipping. Lastly, for air freight shipping, the car is secured to a plate and thoroughly wrapped for protection. More information can be found at https://www.kinternational.com/automobile-shipping-information/.
Contact K International Transport for Cayman Islands Shipping
Ready to get started? Click here for a quote today! With a reliable international shipping and transport company like K International Transport, overseas car shipments are hassle-free, efficient, and affordable. We hope you consider us given all our international shipping experience! Call us at 212-267-6400 or send us an email at inquiries@kinternational.com. You can also reach out to us on Skype at kinternationalny. We look forward to working with you!