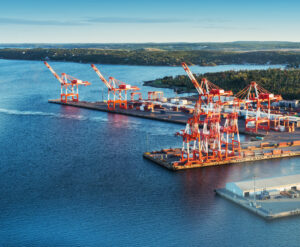 Many clients of international shipping in the United States opt to transport their cargo, whether it is an automobile, construction equipment, or personal and commercial goods, from Port Halifax in Nova Scotia, Canada, rather than a port in the United States. This can be a good choice for several reasons, including location of the cargo, the destination country, and the price deals available. Whatever the reason, an experienced international shipping company can explain the pros and cons of utilizing Port Halifax.
Primarily, many clients in Eastern Canada and the Northeast United States may find that Port Halifax is closer and more efficient than many ports in their area. With the availability of roll-on/roll-off (RoRo) shipping services at Port Halifax, clients can find a close and efficient port near them that can transport wheeled cargo overseas for an inexpensive price.
Additionally, Port Halifax can offer many deals for clients transport cargo to East Africa, West Africa, Southeast Asia, Western Europe, South America, and the Middle East, particularly for all types of automobiles via RoRo vessels. With a freight forwarder's overseas car transport services, clients may be recommended to choose Port Halifax as a port of origin for their cargo.
As efficient as ports in the U.S and relatively close to the Northeast United States, Port Halifax, Canada gives clients another option for transport automobiles to virtually any port in the world with efficient RoRo international shipping services.