Do you have family or friends living overseas in El Salvador? Do you have business interests in El Salvador? Are you looking to live in El Salvador for an extended period of time?
If you answered yes to any of the questions above, an experienced 
international shipping company
like K International Transport can help you with the transition by transporting virtually any cargo to Port Acajutla, El Salvador from any port in the United States.
K International Transport can help clients transport all types of cargo overseas to Port Acajutla, El Salvador, including:
Automobiles/ cars/ vehicles, with our

overseas car transport services,

Personal effects, like clothing and other small items,

Household goods, such as furniture and appliances,

Construction Equipment, including bulldozers, cranes, excavators, and dump trucks from Kobelco, Caterpillar, Komatsu, Hitachi, and Volvo,

Agricultural Equipment and Machines,

Boats, including motor boats, yachts, fishing boats, and sailboats. 

and more! 
Depending on each client's budget, cargo, and preferences, shippers can choose to transport their cargo via container or roll-on/roll-off (RORO) vessel.
Containers can be an easy and efficient method for transporting automobiles (especially non-running vintage cars), personal effects, and even construction equipment overseas! There are many different types of containers for different container shipping needs. But no worries! A reliable international shipping company will help clients sort through the information to ensure that they get the very best service they need.
A shipper can elect to get their cargo transported in a bulk container, which is 20-feet long and preferable for cargo shipped in bulk.  

Clients may also select a 20-foot or 40-foot dry freight container, which is the standard general-purpose container.

There is also the 40 or 45-foot high cube container. With its 9'6 height, the high cube container is ideal for large, voluminous cargo. 

Heavy and versized cargo is generally most suited for open-top containers, flat racks, and platforms. 
Although international shipping can get expensive, there are ways to lower the cost of international container shipping services. Clients should consider whether they are shipping full-container load (FCL) or the less-than-container load (LCL). FCL is when one client uses one whole container for their goods alone. This is the most expensive option because the cost of the shipping container is entirely charged to one customer. With LCL, a client can share a container with another shipper, which can substantially cut costs because the client will only be responsible for a portion of the price of the container.
RORO shipping, on the other hand, is often the most affordable shipping method. However, it is not acceptable for all types of cargo. RORO shipping is best for self-propelled and wheeled automobiles and construction equipment. Non-running cars, or equipment that is not wheeled, must go into a container instead. This is because the RORO loading process consists of actually driving the automobile or equipment onto the vessel, which is very efficient and affordable for wheeled cargo.
One more thing clients should know about RORO shipping: clients may not load any personal effects into their automobiles if transporting via RORO. If there are personal items the client wishes to ship along with the automobile, a container would be the right choice.
Although K International Transport will help shippers get to know the relevant information about Port Acajutla, shippers should also be aware that some ports and countries have requirements for certain cargo to be accepted at the port. For various types of construction equipment and automobiles , there may be cleanliness requirements. For example, equipment and cars must be kept clean, free of excess dirt, and without leaks. Otherwise, the cargo may not be accepted, or the shipper may be charged a cleaning fee. Some countries may have more specific inspection and cleaning requirements, especially for used large equipment. If these requirements are not met, the cargo may be rejected or withheld when it arrives, so it is very important that shippers strictly abide by these regulations. Shippers need not worry about remembering specific requirements; K International Transport will tell shippers everything they need to know before the shipping commences.
To summarize, we can offer many international shipping services to transport your cargo to Port Acajutla, El Salvador:
K International Transport can ship your cargo from any port in the United States, including those in New York, Maryland, Virginia, South Carolina, Georgia, Florida, Texas, California, and more! 
If your cargo is located outside of a port city, K International Transport offers inland trucking and transportation services to transport your belongings to a port before they are shipped overseas! 
Roll-on/roll-off services if you are shipping wheeled cargo
Customs clearance and export formalities in the destination country as well as the United States.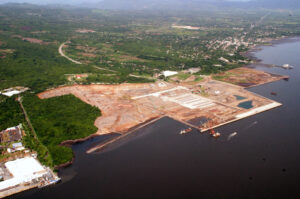 http://www.cepa.gov.sv/
Although clients may be overwhelmed by the concept of transporting often valuable automobiles, construction equipment, and personal effects, a reliable international shipping company like K International Transport can help demystify the process. K International Transport is an expert in the freight forwarding field and can relay important information regarding port and customs regulations to clients to minimize the burden.
Contact K International Transport today for questions or international shipping quotes to the Middle East, Europe, Africa, South America, and Asia. K International Transport can help clients transport cargo from all United States ports, including New York, New Jersey, Maryland, Virginia, South Carolina, Georgia, Florida, Texas, California, and Washington.  Call us at 212-267-6400 or email us at inquiries@kinternational.com. You can also reach out to us on Skype at kinternationalny. We look forward to working with you and shipping your cargo!