One of the busiest container ports in Central America, Port Santo Tomas is a government port and is located near the Guatemalan city of Puerto Barrios. Port Santo Tomas is located next to a free trade zone, Zona de Libre Industria y Comercio Santo Tomas de Castilla, which allows for easy export and import via the port. The port accepts vessels of up to 229 meters in length and has multiple container facilities for maximum efficiency.
Port Santo Tomas, Guatemala can accept virtually any cargo for import or export services, including dry bulk, tankers, barges, roll-on/roll-off, liquid bulk, and containerized cargo. This can include all types of automobiles, construction equipment, and personal effects.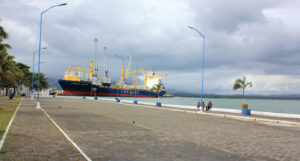 Some notable features of Port Santo Tomas, Guatemala include:
The port is strategically located and well-sheltered from hurricanes and other natural conditions.
The port was rebuilt in 1976 after an earthquake severely damaged Port Barrios.
Port Santo Tomas is a government port that originally began its operations in 1955.
For more information about Santo Tomas and international shipping services to Guatemala, visit our rate request page to receive an international car, high heavy, construction equipment and container shipping quote or to receive more information on our international shipping services.