With the recent climactic disasters around the world, especially due to Hurricanes Maria and Irma on the Western Hemisphere, many clients are interested in utilizing international shipping companies to transport automobiles, construction equipment, and donation goods, particularly batteries, to affected locations such as Puerto Rico, Dominican Republic, the Virgin Islands. With an experienced freight forwarder, shipping cargo in containers is hassle-free and affordable for the client in question.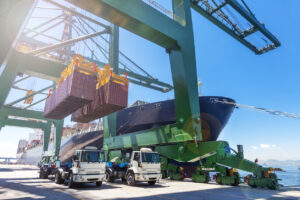 When transporting a container of donation goods, clients must first tell their freight forwarder exactly what they are looking to transport, give them the appropriate identification of both the sender and the person or organization who will receive the package, sign a power of attorney form, and pay in full. With their container shipping services, companies can then suggest inland trucking and transportation services for clients who are far from a port in the United States, loading and unloading in the United States and abroad, and help with customs clearance and export formalities.
Once the container arrives in the target destination country, it will be unloaded and the package can be picked up from the port by the cosigner or organization. With this method, clients can transport donation goods such as batteries, clothing, various types of equipment, generators, and more!