Many clients, both novices and experts in international transport, often worry about the actual safety of their cargo when it is traveling overseas to its target destination. As all experienced international shipping companies can inform clients, damage to cargo or any other setbacks in the process are anomalies: a wide majority of the time, clients are extremely satisfied with the status of their belongings as well as the services they received.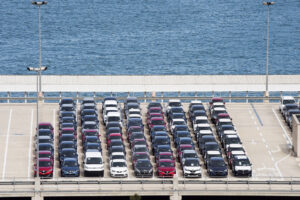 Roll-on/ Roll-off (RoRo) shipping is a process in which automobiles and running vehicles are driven onto a RoRo vessel rather than being loaded into a container when being transported overseas; this is often a cheaper and easier alternative to international container shipping. In regard to the safety of RoRo shipping, clients' automobiles are strapped down after they are driven onto the vessel, which prevents any damage on the ocean, even if there is inclement weather during the shipment.
With container shipping, which is used for non-running cars, personal effects, and construction equipment, the cargo is carefully loaded into the 20 foot, 40 foot, or 45 foot container by trained port staff, where it is protected from the elements for the extent of the shipment. With both container shipping and RoRo transport, the clients can be content in knowing that their cargo is well protected!