For people moving back home to Latin America from the United States, a reliable and experienced freight forwarding company like K International Transport can help! No matter if you were in the United States for business, for school, visiting family, or living abroad temporarily, K International Transport can ship all of your belongings overseas to your home country.
Para las personas que están planeando regresar a su hogar en América Latina desde los Estados Unidos, ¡una compañía de transporte internacional con experiencia y confiable como K International Transport te puede ayudar! Sin importar si estaba viviendo en Estados Unidos por negocios, estudios, visitas familiares, o residencia temporal, K International Transport puede
ayudarte a enviar todas tus pertenencias a casa.
K International Transport can ship your vehicle, personal effects, and household goods to virtually all ports in Latin America from the United States, including:
K International Transport puede enviar tu vehículo/carro/auto, efectos personales y artículos para el hogar a prácticamente todos los puertos de América Latina desde los Estados Unidos, incluidos:
Veracruz, Mexico
Puerto Barrios, Guatemala
Acajutla, Salvador
Puerto Cortes, Honduras
Corinto, Nicaragua
Puerto Limon, Costa Rica
Manzanillo, Panama
Guayaquil, Ecuador
Cartagena, Colombia
Callao, Peru
San Antonio, Chile
Zarate, Argentina
Montevideo, Uruguay
Santos, Brazil.
Clients moving back home to Latin America often ship automobiles and personal effects such as furniture, clothing, appliances, etc.
Los clientes que regresan a su hogar en América Latina a menudo envían carros/autos/vehículos y efectos personales como muebles, ropa, electrodomésticos, etc.
Overseas Car Shipping to Latin America
Envió internacional de carros/autos/vehículos para América Latina
For international automobile shipping, clients can utilize roll-on/roll-off (RORO) services or full container services (FCL).
Para el envió internacional de autos/vehículos/carros, los clientes pueden elegir entre servicio de roll-on /roll-off (RORO) y servicio de contenedor (FCL).
For RORO service, wheeled and self-propelled cars can be driven onto the vessel where they are fastened until their arrival in Latin America. There they can simply be driven off. RORO is typically cheaper, more efficient, and hassle-free for clients transporting vehicles. Clients should keep in mind that they cannot transport personal effects in the automobiles with RORO services.
Para servicio RORO, autos/carros/vehículos en condiciones de uso y con ruedas se pueden
conducir dentro y fuera del barco, el cual luce como un estacionamiento completamente cerrado en donde el cargo está libre de cualquier exposición al agua y clima. Una vez que la unidad está dentro del barco, será sujetado seguramente hasta que llegue a su destino. Una vez que la unidad llegue a su destino final en Latinoamérica, será conducida fuera del barco. Servicio RORO es
generalmente mas barato, mas eficiente y más sencillo para clientes que buscan enviar solo autos/carros/vehículos. Los clientes deben tener en cuenta que no pueden transportar efectos personales en los automóviles con servicios RORO.
For container service, cars/auto/vehicles will be loaded and braced by one of our professional warehouses onto a container. One of the advantages of container service is that it can handle non-runner units, as well as self-propelled. With container service, you can also have personal effects inside of your car. However, container service is more expensive and a bit more complicated process; once it reaches destination; consignee will need to arrange pick up of full container, unloading of cargo and return of empty container to the steamship line. Something important to mention is, if you have more than 1 car, container cost per car may lower significantly, depending on the type of car we can fit 2,3 or 4 cars onto 1×40'HC container.
Para el servicio de contenedor, uno de nuestros almacenes profesionales cargará y sujetará sus autos/carros/vehículos dentro del contenedor. Una de las ventajas del servicio de contenedor es que puede manejar unidades que no corren, así como carros en optimas condiciones. Asimismo, con el servicio de contenedor, el cliente puede tener efectos personales dentro de su automóvil… Sin embargo, el servicio de contenedor es más costoso y es un proceso un poco más complicado en destino; una vez que llega a destino; el destinatario/ consignatario deberá organizar que el contenedor con el cargo se recoja en el puerto, la descarga del
contenedor y el retorno del contenedor vacío al puerto. Algo muy importante que hay que mencionar es, si usted tiene mas de 1 carro, el costo de servicio de contenedor por carro puede disminuir significantemente, dependiendo del tipo de carro podemos poner 2,3 o 4 carros por contenedor de 1×40'HC.
Before the shipping process begins, clients will need to provide several documents to the international shipping company. This includes photo identification information for both the shipper and the consignee, the original title of the car, prepayment, proof of the commercial value of the automobile, and a signed power of attorney form to allow the freight forwarding company to handle the shipment. After the documents are submitted, the company can schedule the shipment
Antes de que comience el proceso de envió, los clientes deberán de proporcionar varios documentos a la empresa de transporte/envió internacional. Estos documentos incluyen, identificación con fotografía tanto del remitente como para el destinatario (pueden ser la misma persona), el titulo original del auto, el prepago, una prueba del valor comercial del vehículo, y un poder legal firmado para dar permiso a la empresa de transporte internacional de manejar su envío. Una vez que todos los documentos y pago hayan sido recibidos, la compañía internacional de transporte podrá organizar y programar él envió.
Some restrictions and regulations may apply on automobiles being shipped to Latin America. A few common restrictions include tariffs on vintage and classic cars, automobile age restrictions, and cleaning requirements. We recommend contacting local customs at country of destination to consult about import requirements and restrictions.
Es posible que se puedan aplicar algunas restricciones y regulaciones en algunos países de Latinoamérica para la importación de carros/vehículos/autos. Algunas restricciones comunes son por ejemplo aranceles en carros clásicos, limitaciones en los años de los automóviles, y algunas obligaciones de limpieza/fumigación. Recomendados contactar a la aduana local en el país de destino para consultar los requisito, requerimientos y restricciones para la importación de carros/vehículos/autos.
If you cannot move your car to the port of origin in the United States, K International Transport can arrange for door pickup with reputable and reliable inland trucking.
Si no puede mover su automóvil al puerto de salida o al almacén de carga más cercano en los Estados Unidos, K International Transport puede recoger el auto desde su puerta con servicios de transporte terrestre de buena reputación y confiabilidad.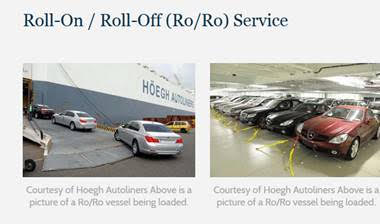 International Shipping Services for Personal Effects and Household Goods
Envió internacional de efectos personales y artículos para el hogar para América Latina
For clients shipping both an automobile and personal effects or household items, such as furniture and clothing, containers can be used to ship the cargo. To ship a car and personal effects, clients have two options. They can place the personal effects inside the automobile, or, if there are too many items to fit in the car, the items can be loaded in a container. The container will have both the automobile and the personal effects.  Client should also be aware that the automobile will loaded by crew in the warehouse, so if you choose to ship personal effects with the automobile in a container, the personal effects must be loaded by the shipper and the car will be loaded at the warehouse.
Para clientes que necesitan enviar su auto/carro junto con efectos personales y artículos de hogar, tales como muebles y ropa se pueden usar contenedores para enviar la carga. Para enviar su auto/carro junto con artículos personales, los clientes tienen dos opciones. Pueden colocar los artículos personales dentro del automóvil/carro o, si son demasiados artículos que no caben dentro del carro, los artículos entonces deberán ser cargados directamente en el contenedor. El contenedor tendrá tanto el automóvil como los efectos personales. El cliente debe de tomar en cuenta que los automóviles/carros tienen que ser colocados en el contendor por nuestros cargadores profesionales en uno de nuestros almacenes; así que si los artículos no caben dentro del carro y artículos personales/de hogar tiene que ser cargados directamente en el contenedor, los artículos personales/de hogar deberán ser cargados por el cliente, y el carro se cargara en nuestro almacén.
For clients looking to transfer only personal effects and household goods, they can choose to transfer the items via Full-Container-Load (FCL) or Less-than-Container-Load (LCL). For a very large quantity of personal goods or if you also have household goods like furniture and appliances, a 20 ft or even a 40ft container may be the best option (FCL service).  For clients with less cargo, LCL is an affordable and efficient option.
Para clientes que buscan solamente enviar efectos personales y artículos de hogar, pueden elegir entre servicio de contenedor completo (servicio FCL) o servicio de contenedor parcial (servicio LCL). Para una cantidad significativa de efectos personales o si también tiene artículos para el hogar como muebles y electrodomésticos, un contenedor de 20ft o incluso de 40fr será la mejor opción (Servicio FCL). Para clientes con poco cargo, LCL es una opción accesible y eficiente.
LCL allows multiple people to share a single container. With this option, the goods need to be packed and palletized. Additionally, the client must submit a packing list and include the dimensions and weight of each package.
LCL permite que varias personas compartan el espacio de un contenedor. Sin embargo, para servicio de contenedor parcial, todos los artículos personales deben de estar empacados, embalados y paletizados. Así mismo, el cliente debe de proveer una lista de empaque que incluya las dimensiones y el peso de cada paquete.
For FLC service, the client must load the personal effects onto the container themselves. Although this includes a bit more work for the shipper, it is a very affordable and economically efficient option. Keep in mind that in order to load the container, a tractor trailer must be able to enter the residential area, there must be sufficient parking and loading space for the truck with the container, the client is responsible for loading the container, and containers come in a chassis, which is about 4 feet above the ground and there is no ramp.
Para el servicio FLC, el cliente es responsable de cargar los efectos personales en el contenedor. Aunque esto incluye un poco más de trabajo para el cliente, es una opción muy accesible y económicamente eficiente. El cliente debe tomar en cuenta que para cargar el contenedor, el tractor debe poder ingresar al área residencial, debe haber suficiente espacio para el camión con el contenedor puedan estacionarse para que el cliente lo pueda cargar y los contenedores vienen en un chasis, que está a unos 4 pies del suelo y no hay rampa.
Although international container shipping encompasses many different types of cargo, there are certain prohibitions, especially when shipping from the United States. Typically, United States customs does not allow certain goods to be transported in or out of the country. These include perishable food items, plants, medicines and drugs, goods of very high value, liquids, hazardous goods like weapons and flammable items, live animals, and more. It isn't always easy to determine whether the cargo can be legally shipped, or it breaks United States guidelines. However, K International Transport has years of experience transporting goods overseas and can help clients demystify the process.
Si bien el envío internacional de contenedores abarca muchos tipos diferentes de carga, existen ciertas prohibiciones, especialmente cuando se realiza el envío desde los Estados Unidos. Por lo general, la aduana de los Estados Unidos no permite que ciertas mercancías sean transportadas dentro o fuera del país. Estos incluyen alimentos perecederos, plantas, medicinas y
drogas, bienes de muy alto valor, líquidos, bienes peligrosos como armas y artículos inflamables, animales vivos y más. No siempre es fácil determinar si la carga se puede enviar legalmente o si infringe las pautas de los Estados Unidos. Sin embargo, K International Transport tiene años de experiencia en el transporte de mercancías al extranjero y puede ayudar a los clientes a
desmitificar el proceso.
For the most convenient, affordable, and reliable international shipping services, contact K International Transport today! As a leading international shipping company, K International Transport can provide cost effective and reliable services from the United States to virtually all ports in Latin America. We love to ship automobiles of all makes, models, and years, personal effects, and household goods from all port states in the United States, including New York, Virginia, Maryland, South Carolina, Georgia, Florida, Texas, California, and Washington.
¡Para obtener los servicios de envío internacional más convenientes, asequibles y confiables, comuníquese con K International Transport hoy! Como empresa líder de envíos internacionales, K International Transport puede proporcionar servicios rentables y confiables desde los Estados Unidos a prácticamente todos los puertos de América Latina. Nos encanta enviar automóviles de todas las marcas, modelos y años, efectos personales y artículos para el hogar desde todos los estados portuarios de los Estados Unidos, incluidos Nueva York, Virginia, Maryland, Carolina del Sur, Georgia, Florida, Texas, California y Washington.
For more information, call us at 212-267-6400, or send us an email at inquiries@kinternational.com. You can also reach out to us on Skype at kinternationalny. For an international shipping rate, visit our rate request page for a preliminary shipping quote. No matter if you are shipping to Mexico, Chile, Ecuador, or Peru, K International Transport can always help.
Para obtener más información, llámenos al 212-267-6400 o envíenos un correo electrónico a inquiries@kinternational.com. También puede comunicarse con nosotros por Skype en kinternationalny. Para obtener el precio de un envío internacional, visite nuestra página de solicitud de tarifa para obtener una cotización. No importa si realiza envíos a México, Chile, Ecuador o Perú, K International Transport siempre puede ayudarlo.