Let's say you have family in another country, and you want to ship them some of your belongings with the help of an international shipping company and containerized shipping. Well, what do you do first?

Most importantly, you should be asking yourself "what should I NOT do when shipping internationally?"



Well, K International Transport is here to help! Here are some things you should not be shipping internationally:


1. Jewelry and other valuable items, such as family heirlooms, should not be shipped. This is because they have a high chance of being damaged during the trip overseas.
2. Alcohol and perishable items should not be shipped either! Just as you would not bring perishable food, plants, and seeds on a plane, you should not look to ship them.
3. Firearms, drugs, and tobacco are prohibited as well. That's understandable!
4. Finally, as of January 2014, lithium batteries, and electronics containing lithium batteries, cannot be shipped either.
This may be a lot to take in, but don't fret! With K International Transport's international shipping services, we will help you get through this sometimes tedious process.
Although it is important to understand what is and isn't appropriate to ship internationally, it is imperative that you pick the right international shipping company for your needs. K International Transport is not only a reliable choice, but will also ship your cargo to your family abroad efficiently, and for an affordable price.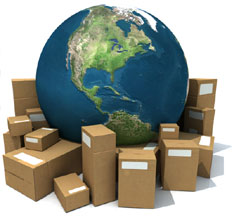 If you are not interested in shipping household or personal goods, K International Transport also specializes in overseas car shipping, so we will help you ship you're automobile to anywhere in the world, including countries in Asia, Africa, Europe, and South America.
So call K International Transport today if you want to ship your belongings to family abroad. Call us at 212-267-6400, reach us on Skype at kinternationalny, or email us at sales@kinternational.com. For an international shipping rate, visit our rate request page.